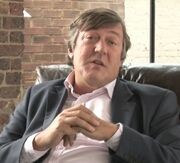 Stephen John Fry (born August 24, 1957 in Hampstead, London, United Kingdom) is an British comedian, actor, voice actor, director, executive producer, writer, presenter, and activist. After a troubled childhood and adolescence, during which he was expelled from two schools and spent three months in prison for credit card fraud, he secured a place at Queens' College, Cambridge, where he studied English literature. While at university, Fry became involved with the Cambridge Footlights, where he met his long-time collaborator Hugh Laurie. As half of the comic double act Fry and Laurie, he co-wrote and co-starred in A Bit of Fry & Laurie, and took the role of Jeeves (with Laurie playing Wooster) in Jeeves and Wooster.
Fry's acting roles include a Golden Globe Award–nominated lead performance in the film Wilde, Melchett in the BBC television series Blackadder, the title character in the television series Kingdom, a recurring guest role as Dr. Gordon Wyatt on the crime series Bones, and as Gordon Deitrich in the dystopian thriller V for Vendetta. He has also written and presented several documentary series, including the Emmy Award–winning Stephen Fry: The Secret Life of the Manic Depressive, which saw him explore his mental illness. He is also the long-time host of the BBC television quiz show QI.
Besides working in television, Fry has contributed columns and articles for newspapers and magazines and written four novels and three volumes of autobiography, Moab Is My Washpot, The Fry Chronicles and More Fool Me. He also appears frequently on BBC Radio 4, starring in the comedy series Absolute Power, being a frequent guest on panel games such as Just a Minute, and acting as chairman for I'm Sorry I Haven't a Clue, where he was one of a trio of hosts who succeeded the late Humphrey Lyttelton. Fry is also known for his voice-overs, reading all seven of the Harry Potter novels for the UK audiobook recordings, narrating the LittleBigPlanet and Birds of Steel series of video games, as well as an animated series of explanations of the laws of cricket, and a series of animations about Humanism for the British Humanist Association.
Fry has also appeared as the Master of Lake-town in Sir Peter Jackson's The Hobbit trilogy (2012-2014) in the final two films, The Desolation of Smaug (2013) and The Battle of the Five Armies (2014).
Community content is available under
CC-BY-SA
unless otherwise noted.