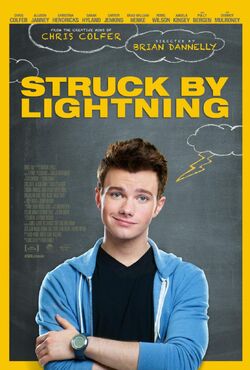 A personal raincloud can be deadly...
Produced By
Roberto Aguire, Mia Chang, David Permut
Studio
Permut Presentations, Camellia Entertainment, Evil Media Empire, Inphenate
Distributed By
Tribeca Film
Release Date
January 11, 2013
Rating

Struck by Lightning is a 2012 coming-of-age comedy starring Chris Colfer, who also wrote the screenplay, produced the film, and authored a similarly titled book based on the film (Struck By Lightning: The Carson Phillips Journal). The film is directed by Brian Dannelly. The movie had its world premiere at Tribeca Film Festival on April 21, 2012. The movie will be released to theaters January 11, 2013.
High school senior Carson Phillips was destined for bigger things than his close-minded small town could ever offer. He was on a path to greatness, but destiny had a different plan when he was suddenly killed by a bolt of lightning in his school parking lot. Demonstrating that life is what happens while you're busy planning your future, Carson recounts the last few weeks of his life via witty, insightful flashbacks, including a blackmail scheme targeting the popular kids in school that he concocts with his best friend, and a home life that includes a mother who's more interested in the bottle than her son's future and an estranged father who suddenly appears with a pregnant fiancee.
Trailers
Edit
Related Links
Edit
Official site
IMDB</br>
Community content is available under
CC-BY-SA
unless otherwise noted.