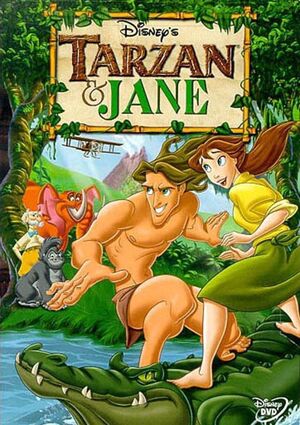 Tarzan & Jane is a Disney direct-to-video film released on July 23, 2002, sequel to the 1999 animated feature Tarzan, and uses three unaired episodes of the film's corresponding television series, The Legend of Tarzan. Tarzan II, a midquel to the original film, was released in 2005. The film is set one year after the events of the first film.
The episodes used in the film are "Tarzan and the British Invasion", "Tarzan and the Volcanic Diamond Mine" and "Tarzan and the Flying Ace", the last three episodes of the show to be aired (but taking place much earlier in production order). An adventure game on the DVD is also based on the series. It resembles a multiple choice story, featuring many different characters from the TV series. Another gamebook example consists of the Give Yourself Goosebumps series.
Community content is available under
CC-BY-SA
unless otherwise noted.