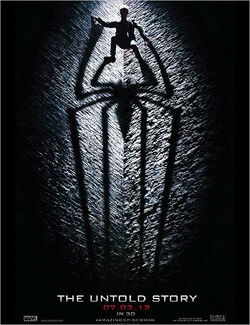 The Untold Story Begins
Release Date
July 3, 2012
Rating


The Amazing Spider-Man is a 2012 reboot of the Spider-Man film series and remake of the 2002 origin Spider-Man. It's release date is July 3, 2012.
Peter Parker, a teenager who is an outcast from high school and abandoned by his parents when he was young and is now living with his Uncle Ben and Aunt May, spends his days trying to unravel the mystery of his own past and winning the heart of his high school crush, Gwen Stacy. Peter discovers a mysterious briefcase belonging to his dad which leads him to his dad's former partner, Dr. Connors. The discovery of his father's secret will ultimately shape his destiny of becoming "Spider-Man" and bring him face to face with Connors' alter ego, the Lizard.
Critical Reception
Edit
The Amazing Spider-Man received positive reviews from critics. On Rotten Tomatoes, The film has a score of 73% based on 329 reviews with an average score of 6.65/10.
Related Links
Edit
Community content is available under
CC-BY-SA
unless otherwise noted.