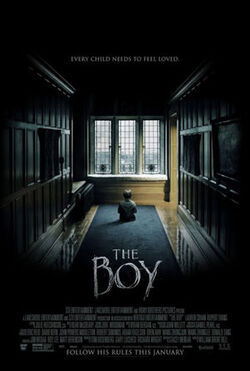 Every Child Needs to Feel Loved.
Directed By
William Brent Bell
Produced By
Matt Berenson
Roy Lee
Gary Lucchesi
Tom Rosenberg
Jim Wedaa
Studio
Lakeshore Entertainment
Vertigo Entertainment
Distributed By
STX Entertainment
Release Date
January 22, 2016
Rating
(USA)
16 (Netherlands)
14A (Canada)
12 (France)
R-13 (Philippines)
16+ (Russia)
PG13 (Singapore)
B (Mexico)
13 (Argentina)
14 (Chile)
12 (Germany)
M/14 (Portugal)
R-12 (Taiwan)
15 (UK)
15A (Ireland)
15 (Norway)
T (Italy)
The Boy is a 2016 American-Chinese horror film directed by William Brent Bell and written by Stacey Menear. The film stars Lauren Cohan and Rupert Evans. It was released on January 22, 2016 by STX Entertainment.
A young American named Greta (Lauren Cohan) takes a job as a nanny for an 8-year-old boy in a remote English village. To her surprise, Greta learns that the child of her new employers is a life-size doll. They care for the doll as if it was human, which helps the couple to cope with the death of their own son 20 years earlier. When Greta violates a list of strict rules, a series of disturbing and inexplicable events bring her worst fears to life, leading her to believe that the doll is alive.
On February 25, 2015, STX Entertainment acquired the US rights to the film and set the film for a February 5, 2016 release, but in March 2015 the film was moved up to January 22, 2016. The official trailer was released on October 14, 2015.
Community content is available under
CC-BY-SA
unless otherwise noted.