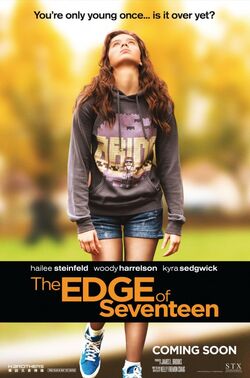 You're only young once... is it over yet?
Produced By
James L. Brooks
Richard Sakai
Julie Ansell
Kelly Fremon Craig
Written By
Kelly Fremon Craig
Edited By
Tracey Wadmore-Smith
Cinematography
Doug Emmett
Studio
Gracie Films
Huayi Brothers Pictures
Tang Media Productions
Virgin Produced
Release Date
November 18, 2016 (United States)
Rating
The Edge of Seventeen is an American coming-of-age film directed by Kelly Fremon Craig. The cast of the film consists of Hailee Steinfeld, Woody Harrelson, Kyra Sedgwick, Haley Lu Richardson, and Hayden Szeto.
To be added