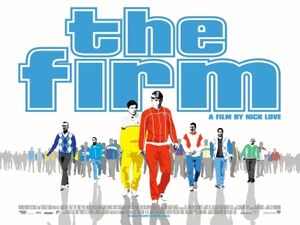 The Firm
 is a British 2009 drama film based around football hooliganism written and directed by Nick Love. The film is a remake of the original 1989 version.
Adaptaion
Edit
Loosely adapted from Alan Clarke's 1989 classic TV film for Screen Two, Nick Love's film is set earlier in the 1980s; around 1984. It retells a similar story to the original, but it is told from a different character's point of view. The protagonist of this adaption is Dom, who was a minor character in the original. Dom is a young wannabe football casual who gets drawn into the charismatic but dangerous world of the firm's top boy, Bex Bissell.A "firm" being the name used by groups of smartly dressed hooligans,under the pretense of being supporters of a particular team,who arrange organised violence on match days,with rival "firms".
This film is released exclusively to Britian, and its only American release is on Twilight Time Blu Ray.