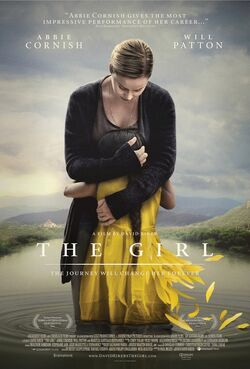 The journey will change her forever.
Cast
Abbie Cornish, Will Patton
Studio
Journeyman Pictures
Distributed By
Journeyman Pictures
Language
English, Spanish
Release Date
December 14, 2012 (limited)
Rating


The Girl is an independent film written and directed by David Riker. It debuted at the 2012 Tribeca Film Festival. It is due to open in select theaters for a one-week awards-qualifying period on December 14, 2012, and will have a full theatrical release in March 2013. It was filmed on location in Austin, Texas.
Emotionally distraught from losing custody of her son Georgie and running out of options to earn a living to win him back, single mother Ashley becomes desperate when she loses her job at a local Austin megastore. So when the risky opportunity arises to become a coyote-smuggling illegal immigrants over the Texas border-she takes it. The harrowing experience results in unforeseen rewards and consequences, as Ashley forges an intense bond with a young Mexican girl who forces her to confront her past, accept the mistakes she's made, and look to the future.
Related Links
Edit
Community content is available under
CC-BY-SA
unless otherwise noted.