Wiki Targeted (Entertainment)
Play Sound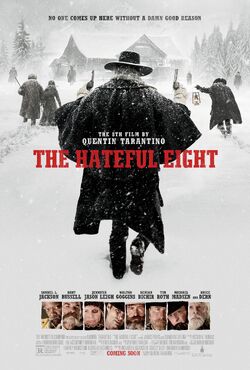 No one comes up here without a damn good reason.
Directed By
Quentin Tarantino
Produced By
Richard N. Gladstein
Shannon McIntosh
Stacey Sher
Written By
Quentin Tarantino
Cast
Channing Tatum
Jennifer Jason Leigh
Walton Goggins
Samuel L. Jackson
Kurt Russell
Zoë Bell
Tim Roth
Cinematography
Stacey Sher
Musical Score
Ennio Morricone
Studio
The Weinstein Company
Distributed By
The Weinstein Company
Release Date
December 25, 2015
Runtime
187 minutes (Roadshow version)
167 minutes (General version)
Rating

for strong bloody violence, a scene of violent sexual content, language and some graphic nudity
The Hateful Eight (2016) is an American Western written and directed by Quentin Tarantino, and produced by Richard N. Gladstein, Shannon McIntosh, and Stacey Sher. Starring Samuel L. Jackson, Kurt Russell, Jennifer Jason Leigh, Walton Goggins, Demián Bichir, Tim Roth, Michael Madsen and Bruce Dern, the film is currently scheduled for theatrical release on January 8, 2016.
Plot
In post-Civil War Wyoming, bounty hunters try to find shelter during a blizzard but get involved in a plot of betrayal and deception. Will they survive?[1]
Cast
Samuel L. Jackson as Major Marquis Warren ("The Bounty Hunter")
Kurt Russell as John Ruth ("The Hangman")
Jennifer Jason Leigh as Daisy Domergue ("The Prisoner")
Walton Goggins as Chris Mannix ("The Sheriff ")
Demián Bichir as Bob ("The Mexican")
Tim Roth as Oswaldo Mobray ("The Little Man")
Michael Madsen as Joe Gage ("The Cow Puncher")
Bruce Dern as General Sanford "Sandy" Smithers ("The Confederate")
James Parks as O. B. Jackson, a stagecoach driver
Dana Gourrier as Minnie Mink, a former slave and the proprietor of Minnie's Haberdashery
Zoë Bell as Six-Horse Judy
Lee Horsley as Ed
Gene Jones as Sweet Dave
Keith Jefferson as Charlie
Craig Stark as Chester Smithers
Belinda Owino as Gemma
Channing Tatum as Jody
Videos
Images
References