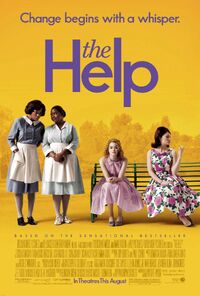 Change begins with a whisper
Release Date
10 August 2011 (USA)
Gross
$169,224,625 (USA) (11 December 2011)
The Help
is a 2011 comedy-drama film based on the novel by the
same name
. It stars Emma Stone as a journalist who writes a controversial book based on research of her relationships with maids in the early 1960s in the South, and
Viola Davis
as one of the maids.
Emma Stone as Eugenia "Skeeter" Phelan, a college graduate and aspiring writer.
Lila Rogers as Young Eugenia "Skeeter" Phelan
Viola Davis as Aibileen Clark
Bryce Dallas Howard as Hilly Holbrook, the town's racist and snooty ringleader.
Octavia Spencer as Minny Jackson
Jessica Chastain as Celia Foote, Minny's naive employer and Johnny's wife.
Ahna O'Reilly as Elizabeth Leefolt, Aibileen's employer.
Allison Janney as Charlotte Phelan, Skeeter's mother.
Anna Camp as Jolene French
Chris Lowell as Stuart Whitworth, Skeeter's boyfriend and a senator's son.
Cicely Tyson as Constantine Bates
Mike Vogel as Johnny Foote, Hilly's ex-boyfriend and Celia's husband.
Sissy Spacek as Mrs. Walters, Hilly's mother.
Brian Kerwin as Robert Phelan, Skeeter's father.
Leslie Jordan as Mr. Blackly
Mary Steenburgen as Elain Stein
Nelsan Ellis as Henry, the waiter
David Oyelowo as Preacher Green
Dana Ivey as Grace Higgenbottom
Community content is available under
CC-BY-SA
unless otherwise noted.