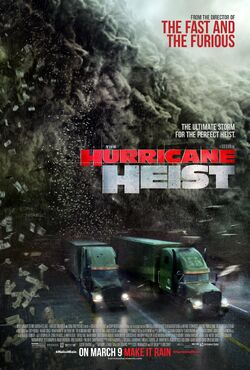 The ultimate storm for the perfect heist
Produced By
Karen Elise Baldwin
Moshe Diamant
Christopher Milburn
Danny Roth
Michael Tadross Jr
Damiano Tucci
Written By
Rob Cohen
Carlos Davis
Anthony Fingleton
Jeff Dixon
Scott Windhauser
Cinematography
Shelly Johnson
Studio
Foresight Unlimited
Parkside Pictures
Windfall Productions
Tadross Media Group
Distributed By
Entertainment Studios
Motion Pictures
Release Date
March 9, 2018
Rating

The Hurricane Heist is an American heist action film directed by Rob Cohen and written by Cohen, Carlos Davis, Anthony Fingleton, Jeff Dixon and Scott Windhauser. It stars Toby Kebbell, Maggie Grace, Ryan Kwanten, and Ralph Ineson. The film was released on March 9, 2018.
While a hurricane bears down on the Gulf coastline after a team of tech hackers embark on a $600 million robbery from a coastal U.S. mint facility, 30 well-armed mercenaries intent on looting the local treasury facility and must stop the mastermind thieves from accomplishing the heist of the century.
Voice cast
Edit
Toby Kebbell as Will, the meteorologist

Leonardo Dickens and Luke Judy as Young Will

Maggie Grace as Casey, the Treasury agent
Ryan Kwanten as Breeze, Will's ex-Marine brother

Patrick McAuley and Andre Robinson as Young Breeze

Ralph Ineson as Perkins, a corrupt Treasury employee
Melissa Bolona as Sasha, a computer hacker
Ben Cross as Sheriff Dixon
Jamie Andrew Cutler as Clement Rice, Xander's brother
Christian Contreras as Moreno
Jimmy Walker as Xander Rice, Clement's brother
Ed Birch as Frears, another computer hacker
Community content is available under
CC-BY-SA
unless otherwise noted.