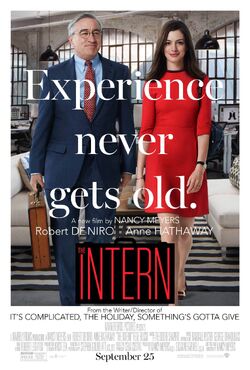 Experience never gets old
Produced By
Suzanne Farwell
Nancy Meyers
Cast
Robert De Niro
Anne Hathaway
Rene Russo
Adam DeVine
Edited By
Robert Leighton
Cinematography
Stephen Goldblatt
Musical Score
Theodore Shapiro
Distributed By
Warner Bros. Pictures
Release Date
September 25, 2015
Rating

'The Intern (2015) is an American comedy directed by Nancy Meyers, and starring Robert De Niro, Anne Hathaway, Adam DeVine, Nat Wolff, Christina Scherer, Anders Holm, and Zack Pearlman.
The Intern is currently scheduled for theatrical release on September 25, 2015.
70-year-old widower Ben Whittaker has discovered that retirement isn't all it's cracked up to be. Seizing an opportunity to get back in the game, he becomes a senior intern at an online fashion site, founded and run by Jules Ostin.[1]
Robert De Niro as Ben Whittaker
Anne Hathaway as Jules Ostin
Rene Russo as Fiona
Adam DeVine as Jason
Zack Pearlman as Davis
Andrew Rannells as Cameron
Anders Holm as Matt
Nat Wolff as Justin
Linda Lavin as Patty
Molly Bernard as Samantha
Christina Scherer as Becky Scott
Christine Evangelista as Mia
Peter Vack as Robby
References
Edit
Community content is available under
CC-BY-SA
unless otherwise noted.