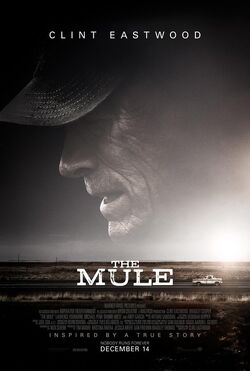 Nobody Runs Forever
Produced By
Clint Eastwood
Dan Friedkin
Bradley Thomas
Tim Moore
Kristina Rivera
Jessica Meier
Cinematography
Yves Bélanger
Studio
Imperative Entertainment
Malpaso Productions
Release Date
December 14, 2018 (United States)
Rating

The Mule is an American crime film directed by Clint Eastwood. The cast of the film consists of Eastwood, Bradley Cooper, Michael Peña, Laurence Fishburne, and Dianne Wiest.
The film was released on December 14, 2018 by Warner Bros. Pictures.
Spoiler warning: The following contains plot details about
the entire movie.
Earl Stone is a 90-year-old horticulturist and Korean War veteran who is facing financial ruin and is estranged from his family. Desperate for money, he becomes a "mule" transporting cocaine through Illinois for a Mexican drug cartel. Facing little suspicion due to his age, race, spotless criminal history and strict adherence to driving laws, Earl is soon trusted with huge amounts of drugs and paid equally large amounts of cash. With the money he obtains from drug-running, he pays for renovations of the local VFW Post and his granddaughter's wedding and education. He becomes friendly with the cartel members, who call him Tata ("grandfather").
Meanwhile, a Drug Enforcement Administration task force is narrowing in on the cartel's deliveries to Chicago. Tensions within the cartel erupt when a power-hungry lieutenant assassinates the boss, and subsequently demands Earl be kept under tighter control. In the middle of a large cocaine shipment, Earl learns his ex-wife is gravely ill. He postpones the drug delivery to make peace with his ex-wife before her death, which provokes the cartel's ire. He resumes the delivery as the DEA and the cartel close in on him.
Earl is confronted by the cartel's enforcers, but they relent after learning of his wife's passing. As he makes his way towards the drop point, he is arrested by the DEA agents. Earl pleads guilty to all charges and is sent to federal prison. There, he returns to his horticulture, at peace with himself and his family.
All spoilers have been stated and have ended here.
During 2014, DEA Special Agent Jeff Moore, who arrested 87-year-old Leo Sharp in 2011, was interviewed by The New York Times regarding the investigation of Sharp, the world's oldest and most prolific drug mule. The rights to the subsequent article, "The Sinaloa Cartel's 90-Year-Old Drug Mule", written by Sam Dolnick, were sold to Imperative Entertainment later that year.
Imperative hired Ruben Fleischer to direct and produce the film. In February 2015, Nick Schenk was hired to adapt the article into a film screenplay.
In January 2018, it was announced that the film would be titled The Mule and that Clint Eastwood would direct the film instead, as well as produce and star in it, for Warner Bros. and Imperative Entertainment. Producers include Eastwood for Malpaso Productions, along with Tim Moore, Kristina Rivera and Jessica Meier, and Dan Friedkin and Bradley Thomas for Imperative Entertainment, while Ruben Fleischer executive produced.
In January 2018, Eastwood was set to play the role of Earl Stone, a Korean War veteran in his 80s, based on World War II veteran Leo Sharp, who is working as a drug courier for a Mexican cartel. In May 2018, Bradley Cooper joined the cast to play DEA agent Colin Bates, based on agent Jeff Moore, who is chasing Stone, and along with Cooper, Lobo Sebastian also joined the film. In June 2018, Dianne Wiest and Michael Peña joined the film's cast to play Earl Stone's ex-wife and Bates' fellow DEA agent, respectively. More cast members were also confirmed, including Laurence Fishburne as a DEA special agent in charge, Alison Eastwood as Stone's daughter, Taissa Farmiga as Stone's granddaughter, and Ignacio Serricchio as Stone's cartel handler. The same month, Loren Dean joined the cast of the film. In July 2018, Victor Rasuk was cast, and Manny Montana was also confirmed.
Principal photography on the film began on June 4, 2018 in Atlanta, Rome, and Augusta, Georgia. It was also shot in Las Cruces, New Mexico.
The film was released on December 14, 2018 in the United States by Warner Bros. Pictures and released on January 25, 2019 in the United Kingdom. It was premiered on December 10, 2018 in Westwood, California.
The Mule grossed $103.8 million in the United States and Canada, and $69.8 million in other territories, for a total worldwide gross of $173.6 million, against a budget of $50 million.
The film was released alongside Spider-Man: Into the Spider-Verse and Mortal Engines in North America, and was projected to gross $15–18 million from 2,588 theaters in its opening weekend. It made $5.9 million on its first day and $17.5 million over the weekend, finishing second at the box office and marking the third-best opening of Eastwood's acting career. It made $9.5 million in its second weekend, finishing fifth, and then $4.9 million on Christmas Day.
Main article: The Mule/Home media
The Mule was released on Digital HD on March 19, 2019 and on DVD, Blu-ray and 4K UHD Blu-ray on April 2, 2019. It is also available for online streaming video and digital downloading through Apple's iTunes Store and Vudu.
On Rotten Tomatoes, the film holds an approval rating of 70% based on 183 reviews, with an average rating of 6.13/10. On Metacritic, the film has a weighted average score of 58 out of 100. Moviegoers polled by CinemaScore gave the film an average grade of "A−" on an A+ to F scale, while those at PostTrak gave it four out of five stars.
The release of The 15:17 to Paris and this film mark the eighth time Clint Eastwood directed two movies for release in a single year.
Costume Designer Deborah Hopper wanted some of the wardrobe to have a worn look for Earl, so some of them were re-used from previous Clint Eastwood movies.
Community content is available under
CC-BY-SA
unless otherwise noted.