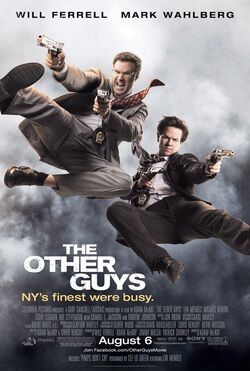 NY's finest were busy.
Release Date
August 2, 2010 (New York City)
August 6, 2010 (United States)
Rating


The Other Guys is a 2010 American buddy cop action comedy film directed by Adam McKay. The cast of the film consists of Will Ferrell, Mark Wahlberg, Eva Mendes, Michael Keaton, Steve Coogan, Ray Stevenson, Samuel L. Jackson, and Dwayne Johnson.
The film was released in the United States on August 6, 2010 by Columbia Pictures.
Unlike their heroic counterparts on the force, desk-bound NYPD detectives Gamble (Will Ferrell) and Hoitz (Mark Wahlberg) garner no headlines as they work day to day. Gamble relishes his job as a paper pusher, but Hoitz is itching to get back on the street and make a name for himself. When a seemingly minor case turns out to be a big deal, the two cops get the opportunity to finally prove to their comrades that they have the right stuff.
Community content is available under
CC-BY-SA
unless otherwise noted.