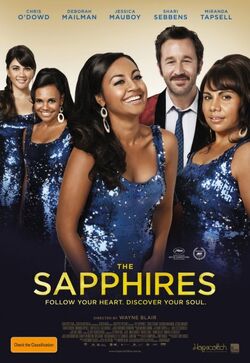 Follow Your Heart. Discover Your Soul.
Written By
Tony Briggs, Keith Thompson
Cast
Chris O'Dowd
, Deborah Mailman, Jessica Mauboy, Shari Sebbens,Miranda Tapsell
Distributed By
The Weinstein Company
Release Date
March 22, 2013
Rating

The Sapphires is an Australian drama/comedy film produced by Goalpost Pictures and distributed by Hopscotch Films, based on the 2005 stage play of the same name which is based on a true story. The film is directed by Wayne Blair and written by Keith Thompson and Tony Briggs, the later of which wrote the play. Production began in 2010, with the casting of the four members of The Sapphires, and filming taking place throughout New South Wales in Australia and Vietnam during August and September 2011.
Inspired by a true story, 1968 was the year that changed the world. And for four young Aboriginal sisters from a remote mission this is the year that would change their lives forever. Around the globe, there was protest and revolution in the streets. Indigenous Australians finally secured the right to vote. There were drugs and the shock of a brutal assassination. And there was Vietnam. The sisters, Cynthia, Gail, Julie and Kay are discovered by Dave, a talent scout with a kind heart, very little rhythm but a great knowledge of soul music. Billed as Australia's answer to 'The Supremes', Dave secures the sisters their first true gig, and fly's them to Vietnam to sing for the American troops. Based on a true story, THE SAPPHIRES is a triumphant celebration of youthful emotion, family and music.
Chris O'Dowd as Dave
Deborah Mailman as Gail
Jessica Mauboy as Julie
Shari Sebbens as Kay
Miranda Tapsell as Cynthia
Tory Kittles as Robbie
Eka Darville as Hendo
Production Stills
Edit
Related Links
Edit
Community content is available under
CC-BY-SA
unless otherwise noted.