The Silence of the Lambs is a 1991 psychological horror thriller directed by Jonathan Demme and starring Jodie Foster, Anthony Hopkins, Scott Glenn, Ted Levine, Anthony Heald and Brooke Smith. It is based on the novel of the same name by Thomas Harris, his second to feature Dr. Hannibal Lecter, brilliant psychiatrist and cannibalistic serial killer.
In the film, Clarice Starling, a young FBI trainee, seeks the advice of the imprisoned Lecter on catching a serial killer known only as "Buffalo Bill". The film won the top five Academy Awards: Best Picture, Best Actress, Best Actor, Best Director and Best Screenplay.[2][3][4]
Promising student Clarice Starling (Jodie Foster) is pulled from her training at the FBI Academy at Quantico, Virginia by Jack Crawford (Glenn) of the Bureau's Behavioral Science Unit. Crawford tasks her with interviewing the notorious Hannibal Lecter (Hopkins), the brilliant psychiatrist and incarcerated cannibalistic serial killer, believing Lecter's insight might be useful in the pursuit of vicious serial killer Buffalo Bill. Starling travels to the Baltimore State Hospital for the Criminally Insane, where she is led by Dr. Frederick Chilton (Heald) to Hannibal Lecter, the sophisticated, cultured man restrained behind thick glass panels and windowless stone walls.
Although initially pleasant and courteous, Lecter grows impatient with Starling's attempts at "dissecting" him and viciously rebuffs her. As Starling departs, another patient flings fresh semen onto her face, enraging Lecter, who calls Starling back and suggests she consult one of his former patients. Starling interprets the patient's name as a riddle. It leads her to a storage lot where she discovers a man's severed head. She returns to Lecter, who tells her that the man is Benjamin Raspail, who is linked to Buffalo Bill. Though Lecter denies killing Raspail, he offers to profile Buffalo Bill if he is transferred away from the venomous, careerist Dr. Chilton.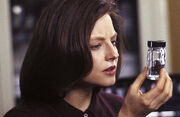 Hours and miles away, Buffalo Bill abducts Catherine Martin, the daughter of United States Senator Ruth Martin. Starling is again pulled from Quantico and accompanies Crawford to West Virginia, where the body of another of Bill's victims has been found. Starling helps perform the autopsy and extracts the chrysalis of a Death's-head Hawkmoth from the victim's throat. At Quantico, as news of Catherine Martin's abduction sweeps the country, Crawford authorizes Starling to offer Hannibal Lecter a fake deal promising a prison transfer if he provides information that helps profile Buffalo Bill and rescue Catherine Martin. Instead, Lecter begins a game of quid pro quo with Starling, offering comprehensive clues and insights about Buffalo Bill in exchange for events from Starling's traumatic childhood, something she was advised not to do.
Unbeknownst to both Starling and Lecter, Dr. Chilton tapes the conversation and reveals Starling's deal as a sham, before offering to transfer Lecter in exchange for a deal of Chilton's making. Lecter agrees and is flown to Memphis where he reveals information on Buffalo Bill to Senator Martin and her entourage of FBI agents and Justice Department officials. Lecter claims that Buffalo Bill was the lover of his former patient, Raspail, whose head Starling found. He even gives a name, but Starling believes that it is just an anagram and a false lead.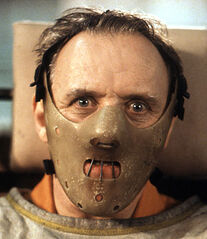 As the manhunt begins, Starling travels to Lecter's special cell in a Tennessee courthouse and confronts him about the false information he gave the Senator. Lecter refuses Starling's pleas for the truth and demands she finish her story surrounding her worst childhood memory. Starling tells of how she was orphaned, relocated to a relative's farm, discovered the horror of their lamb slaughterhouse and her fruitless attempt to rescue one of the lambs. Lecter gives her the case files on Buffalo Bill, before their conversation is interrupted by Dr. Chilton and the police who escort her from the building.
Later that evening, Lecter escapes from his cell. The local police storm the floor when they hear gunshots, discovering one guard barely alive and the other eviscerated and strung up on the walls. Paramedics transport the survivor to an ambulance and speed off while a SWAT team searches the building for Lecter. As the team discover a faceless body in the elevator shaft, the survivor in the ambulance peels off his face, revealing Lecter in disguise. He kills the paramedics, murders another man for his clothes, money and papers and escapes to the airport.
Notified o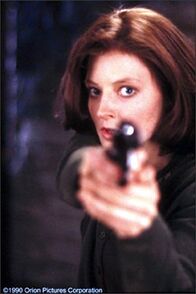 f Lecter's escape, Starling pores over her case files, analyzing Lecter's annotations before realizing that the first victim, Frederica Bimmel, knew Bill in real life before he killed her. Starling travels to Bimmel's hometown and discovers that Bimmel was a tailor, with dresses and templates identical to the patches of skin removed from Buffalo Bill's victims. Realizing that Buffalo Bill is a tailor fashioning a "woman suit" of real skin, she telephones Crawford, who is already preparing to make an arrest, having cross-referenced Lecter's notes with Johns Hopkins Hospital and finding a man named Jame Gumb who once applied for a sex-change operation. Crawford instructs Starling to continue interviewing Bimmel's friends while he leads a SWAT team to Gumb's address in Calumet City, Illinois. Starling's interviews lead to the house of "Jack Gordon," who Starling soon realizes is actually Jame Gumb, and pursues Gumb deep into his multi-room basement, where she discovers a screaming Catherine Martin in a dry well just before the lights in the basement go out, leaving her in complete darkness. Gumb stalks Starling in the dark with night vision goggles and prepares to shoot her when Starling, hearing the sounds of his revolver, spins and fires into the darkness, killing Gumb.
Days later at the FBI Academy graduation party, Starling receives a phone call from Hannibal Lecter who is at an airport in Bimini. Lecter assures Starling he has no plans to pursue her and asks her to show him the same courtesy, which she says she will not do. He then excuses himself, remarking that he's "having an old friend for dinner". He hangs up the phone and casually follows Dr. Chilton through the village.
Michelle Pfeiffer was initially offered the role of Clarice Starling, but turned it down. She has said about her rejection of the part, "that was a difficult decision, but I got nervous about the subject matter."[5]
The Silence of the Lambs was distributed by Orion Pictures; MGM (who bought Orion in 1997) currently holds the rights.
Anthony Hopkins and Jodie Foster gained overwhelming acclaim with their portrayals of Hannibal Lecter and Clarice Starling, even though Hopkins' screen time in the entire film is just over 16 minutes. Their respective portrayals won both of them Academy Awards in 1992, and Hopkins' portrayal, as of 2009, remains the shortest lead role ever to win an Oscar (See List of Academy Award Records).
The film received widespread critical acclaim; Rotten Tomatoes records that Silence of the Lambs received a 96% positive response from critics. Anthony Hopkins and Jodie Foster also received praise for their performances. Roger Ebert specifically mentioned the "terrifying qualities" of Hannibal Lecter,[6] and has since recognised the film as a 'horror masterpiece', alongside such classics as Nosferatu, Psycho, and Halloween.[7] However, the film is also notable for being one of two multi-Oscar winners disapproved of by Ebert's colleague, Gene Siskel, the other being Unforgiven.
Domestic Box Office
Opening Weekend
$13,766,814
% of Total Gross
10.5%
Close Date
October 10, 1991
Total U.S. Gross
$130,742,922
Worldwide Box Office
Total Worldwide Gross
$272,742,922
Academy Awards record
1. Best Actress, Jodie Foster
2. Best Actor, Anthony Hopkins
3. Best Director, Jonathan Demme
4. Best Picture, Edward Saxon, Kenneth Utt, Ronald M. Bozman
5. Best Adapted Screenplay, Ted Tally
Golden Globe Awards record
1. Best Actress, Jodie Foster
BAFTA Awards record
1. Best Actor, Anthony Hopkins
2. Best Actress, Jodie Foster
Jonathan Demme won an Academy Award for Best Director. Jodie Foster and Anthony Hopkins both won Oscars for their roles as Clarice Starling and Dr. Hannibal Lecter, respectively. The film won additional Oscars for Best Adapted Screenplay and Best Picture. The Silence of the Lambs is only the third (and most recent) film to win the five most prestigious Academy Awards (after It Happened One Night, 1934 and One Flew Over the Cuckoo's Nest, 1975).
The film is second in the department of most Oscar nominations for a horror film (7) tying the record previously set by Hush... Hush, Sweet Charlotte in 1964; The Exorcist is in first place with 10 nominations.
Other awards include "best picture" from CHI Awards, the "best film" from PEO Awards, and won Best Film from National Board of Review, all in 1991. In 1991, Jonathan Demme was nominated for a Golden Globe Award for best director. In 1992, Ted Tally received an Edgar Award for Best Motion Picture Screenplay. In 1991 it was nominated for "best film" at the BAFTA Awards (British Academy of Film and Television Arts). In 1998, it was listed as one of the 100 greatest movies in the past 100 years by the American Film Institute.[8]
In 2006 at the Key Art Awards, the original poster for The Silence of the Lambs was named best film poster "of the past 35 years".[9]
The Silence of the Lambs placed 7th on Bravo's 100 Scariest Movie Moments for Lecter's infamous escape scene. The American Film Institute named Hannibal Lecter as portrayed by Hopkins the number one film villain of all time[10] and Clarice Starling as portrayed by Foster the sixth greatest film hero of all time.[10]
In 1991, Silence of the Lambs was awarded Best Horror Film of the Year during the 2nd Horror Hall of Fame Telecast. Vincent Price presented the award to the film's Executive Producer Gary Goetzman.[11]
American Film Institute recognition
Upon its release, The Silence of the Lambs was criticized by members of the gay community for being what they perceived as another in a long line of negative on-screen portrayals of LGBT characters in the absence of any positive portrayals.[12][13] Following the announcement of the film's many nominations, rumors began circulating almost immediately that gay rights groups like Queer Nation were planning to disrupt the live Oscar telecast should the film win any awards.[14] While ultimately no such protests materialized, the rumors did lead to media discussion of Hollywood's attitudes toward sexual minorities and an overview linking the rumored protests to other Academy Awards controversies, in media outlets ranging from the CBS Evening News to The National Enquirer. In the years following The Silence of the Lambs an increased number of gay-themed films and gay characters were created by Hollywood. Indeed, Lambs director Jonathan Demme's next project was the AIDS-related drama Philadelphia.[15]
Marketing for the film included images of Hopkins and Foster with Death's-head Hawkmoths covering their mouths.
In the images, the death's head on the moths' backs is not their natural pattern, but a superimposed miniature image of Salvador Dalí and Philippe Halsman's In Voluptas Mors, which forms the image of a skull from naked bodies
The Silence of the Lambs has been parodied multiple times in the media:
In 2005, an award-winning Off-Off-Broadway parody was produced called "Silence! The Musical".[16]
Ezio Greggio created The Silence of the Hams where rookie FBI agent Jo Dee Foster (Billy Zane) goes to Dr. Animal Cannibal Pizza (Dom DeLuise) to track a serial killer.
In the Family Guy episode "Stew-Roids", Chris parodies the "I'd fuck me" scene. Seth Green reportedly based Chris' voice on the Buffalo Bill character.[17]
Community content is available under
CC-BY-SA
unless otherwise noted.