Spider-Man: No Way Home Trailer Dropped - The Loop
Play Sound
The Three Caballeros is a 1944 animated feature film, produced by Walt Disney Productions and distributed by RKO Radio Pictures. The seventh animated feature in the Disney animated features canon and a sequel to 1942's Saludos Amigos, the film is an adventure through parts of Latin America, combining live-action and animation.
Produced as part of the studio's goodwill message for South America, but less obviously propagandistic, the film again starred Donald Duck, who in the course of the film is joined by his old friend José Carioca, the cigar-smoking parrot from Saludos Amigos representing Brazil, and later makes a new friend in the persona of pistol-packin' rooster Panchito, representing Mexico.
Several Latin American stars of the period appear, including singers Aurora Miranda (sister of Carmen Miranda) and Dora Luz, as well as dancer Carmen Molina.
The film is plotted as a series of self-contained segments, strung together by the device of Donald Duck opening gifts from his Latin American friends.
The film premiered in Mexico City on December 21, 1945. It was released in the USA on February 3, 2000.
Worldwide release dates
Mexico: December 21, 1945 (

Mexico City

)
Spain: February 17, 1946
Film segments
The film's segments include:
The Cold-Blooded Penguin Antarctic penguins in the ice cave
The Flying Gauchito The boy on the donkey on the Mexico
Bahia involved a pop-up book trip through Salvador, the capital of the Brazilian state of Bahía, as Donald Duck and José Carioca meet up with some of the locals who dance an interesting samba and Donald starts pining for the females in the group.
Las Posadas was the story of a group of Mexican children who celebrated Christmas by re-enacting the journey of

Mary

and

Joseph

searching for room at the inn. "Posada" means "inn", and they are told "no posada" at each house until they come to one where they are offered shelter in a stable. This leads to festivities including the breaking of the piñata, which in turn leads to Donald Duck trying to break the piñata as well.
Cast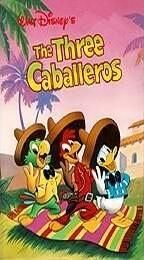 Clarence Nash - Donald Duck
José Oliviera - José Carioca
Joaquin Garay - Panchito
Aurora Miranda - Himself
Sterling Holloway - The Narrator (The Cold-Blooded Penguin)
See also
External links
Category:1944 films