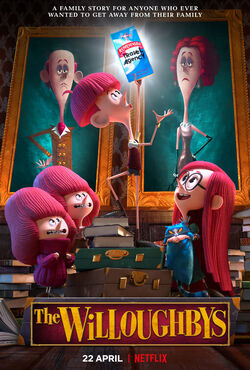 A Family Story for Anyone Who Ever Wanted to Get Away from Their Family.
Produced By
Brenda Gilbert
Luke Carroll
Screenplay By
Kris Pearn
Mark Stanleigh
Based on
The Willoughbys
by Lois Lowry
Edited By
Fiona Toth
Ken Schretzmann
Cinematography
Sebastian Brodin
Release Date
April 22, 2020
Rating

The Willoughbys is a 2020 film directed by Kris Pearn and co-directed by Rob Lodermeier. Based on the book of the same name by Lois Lowry, the film stars the voices of Will Forte, Maya Rudolph, Alessia Cara, Terry Crews, Martin Short, Jane Krakowski, Seán Cullen, and Ricky Gervais, who also narrates the film.
It was released on Netflix on April 22, 2020.
Spoiler warning: The following contains plot details about
the entire movie.
The Willoughbys were once considered a proud family. However, the current generation of the family is very dysfunctional as the parents are too busy being romantically involved with each other to take care of their four kids; the eldest sibling Tim, who lives in a coal bin and tries to keep his siblings out of trouble, middle child Jane, a singing enthusiast who is constantly silenced by her parents, and the youngest twin boys who are both named Barnaby, both of whom are very smart and inventive but are labelled as 'creepy'. Their misfortunes are told from the perspective of a stray blue tabby cat who talks to the audience.
Soon, the siblings find a baby inside a box that was thrown outside of their gate that they name Ruth. When the parents force their kids out of the house after discovering Ruth, they leave her on the doorstep of a candy factory and the factory director, Commander Melanoff, takes Ruth in. Wanting a better life, Jane tells her siblings they should send their parents on a 'vacation' by fabricating a brochure about travelling (hoping for the parents to eventually die of some natural cause), though Tim has his reservations yet still goes along with it. The parents take the bait and proceed to leave the kids to their own devices. After a few days of celebrating their freedom, they are low on food and Tim cannot provide some for them. They are then visited by a nanny due to the parents having hired her to supervise the kids (albeit she came at a cheap price). At first, the kids try to get rid of her as well, but they soon warm up to her, except for Tim.
After Tim misbehaves, the nanny tries to put him in time out, but soon learns of what happened to Ruth. She goes to Melanoff's factory to confront him and retrieve Ruth, and after chasing Ruth through some conveyor belts, the kids, Melanoff, and the nanny all get to know each other well. Meanwhile, the parents manage to survive the disasters (though their guides are not so fortunate) and when they get short on cash, they use the internet to sell their house in order to continue their vacation and inform the nanny to get rid of their kids. Tim learns of this and, believing the nanny is just as bad as their parents, calls Orphan Services to report her and he and his siblings get rid of all the potential buyers that soon line up to buy the house. They nearly fail to scare off a joyous family, but the nanny scares them off and finally convinces Tim that she means well. However, Orphan Services arrive at the house and try to take the kids. The head of the services recognizes the nanny, who she calls Linda, and reveals that she is an orphan herself who never found a family who wanted her.
When it's revealed that Tim called them, Linda leaves in tears and Jane angrily denounces Tim as they are taken away and separated to individual homes; the Barnabys are taken in by a family with electronics, Jane's adopted by musical hippies, and Tim keeps running away from his foster homes and soon ends up at the Orphan Services center in a cell and the Willoughby mansion is destroyed. The cat stops a bus that Linda is on and has carried Tim's signature helmet to convince her to reunite them. She does so, with Tim apologizing to Jane and while on the run, Tim suggests that they get their parents back in order for Orphan Services to leave them alone, despite how much their kids hate them. Reluctantly agreeing to this, the kids' get help from Melanoff to construct a giant candy-fuelled dirigible to get to "Svitzerland", where their parents are and planning to climb a dangerous mountain.
The kids take the dirigible without Linda and Melanoff. When they arrive at the top of the mountain, they find a trail of their mother's yarn and soon discover their parents are about to freeze to death. After saving them, the kids confess that they sent them away and Tim gives a passionate speech about, despite how selfish the parents are, they are still family. However, the parents heartlessly shove their kids out of the way and take the dirigible, but their lack of driving expertise causes the dirigible to fly out of control over the horizon and crash. Just as the kids soon resign themselves to being frozen with Jane singing through it, Ruth, Linda, and Melanoff save them and the kids tell them what happened to their parents. Linda and Melanoff decide to adopt the kids and they all move to the candy factory as a loving family.
Before the credits, it's shown that Mr. and Mrs. Willoughby have survived the dirigible crash, enjoying each other's company while floating on the debris. However, they are seemingly devoured by a shark. After the credits, the cat is seen licking himself and when he notices the audience, he gets defensive.
All spoilers have been stated and have ended here.
Voice cast
Edit
Production
Edit
In November 2015, Bron Studios had acquired the animated film rights to the Lois Lowry's book The Willoughbys, and hired Kris Pearn to adapt into a screenplay with Adam Wood to direct the film, with Aaron L. Gilbert and Luke Carroll producing. In April 2017, Ricky Gervais was cast in the film to lead the voice, and it was reported that Pearn would co-direct the film with Cory Evans. Moments later, Cory Evans was replaced by Rob Lodermeier as co-director while Evans did do the film as a concept artist and a pre-production co-director. The screenplay however was replaced by Pearn and Mark Stanleigh with a story by Pearn who also executive produced the film. In June 2017, more were cast to the film, included Terry Crews, Maya Rudolph, Martin Short, Jane Krakowski, and Seán Cullen. Will Forte and Alessia Cara also provided their voices, with Netflix now set to distribute the film.
The characters in the film were designed by character designer Craig Kellman who designed the characters for DreamWorks Animation's Madagascar and Sony Pictures Animation's Hotel Transylvania as well as Metro-Goldwyn-Mayer's The Addams Family.
The trailer was released on March 24, 2020 on Netflix's YouTube page. The film started streaming on April 22, 2020 on Netflix.
Soundtrack
Edit
The Willoughbys (Music from the Netflix Film)
Mark Mothersbaugh
Released
April 22, 2020
Recorded
2020
Length
55:33
Label
BMG Rights Management
The music in the film was composed and conducted by Mark Mothersbaugh, who previously worked with Pearn on Cloudy with a Chance of Meatballs 2. The original song "I Choose" (performed by Alessia Cara) was released independently by Def Jam Recordings.
All music is composed by Mark Mothersbaugh.
Track list
Edit
"The Willoughbys"
"Main Title
"The Willoughby Boogie"
"Stealing Food"
"It Was A Dark And Stormy Night"
"The Willoughby Boogie Reprise"
"Here Beastie Beastie"
"Melanoff's Magnificent Mustache"
"Brochure Montage"
"The Warmest Glove/Parents Depart"
"We Are Orphans"
"Nanny's Arrival"
"Man Of The House"
"You Disrespect My Oats"
"Melanoff's Factory"
"I Want Her To Stay"
"Parents Are Still Alive"
"We Unite As Willoughbys"
"The Perfect Family"
"Willoughby Beast"
"I'm Bustin You Out"
"Escape"
"Chase/Rainbow Zeppelin"
"Follow The Yarn"
"Defrosting The Parents/We're All Going to Freeze"
"The New Family"
"Meat Mustache/Shark"
Reception
Edit
On Rotten Tomatoes, the film has an approval rating of 89% based on 57 reviews, with an average rating of 6.83/10. On Metacritic, the film has a weighted average score of 67 out of 100, based on 13 critics.
In a interview with Jimmy Fallon, one of Alessia Cara's lifelong dreams was to be a voice in an animated movie. Producers of the film saw the interview and contacted her almost immediately after.
Alessia Cara had a sinus infection when she recorded the demo version of "I Choose," causing her voice to sound hoarse. She apologized for this before sending it in, but was surprised to find the directors loved it, as in the film, Cara's character sings the song during a snow storm in the top of a mountain, and would rightfully sound weaker. The demo version Cara was so nervous about ended up being the final version in the film.
Trailers
Edit
External links
Edit
Community content is available under
CC-BY-SA
unless otherwise noted.