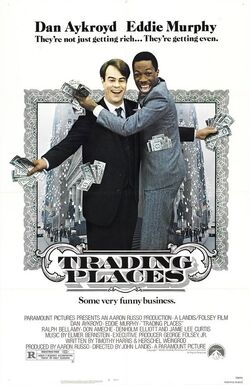 They're not just getting rich... they're getting even.
Written By
Timothy Harris
Herschel Weingrod
Cast
Dan Aykroyd
Eddie Murphy
Ralph Bellamy
Don Ameche
Denholm Elliott
Jamie Lee Curtis
Kristin Holby
Paul Gleason
Edited By
Malcolm Campbell
Cinematography
Robert Paynter
Studio
Cinema Group Ventures
Eddie Murphy Productions
Distributed By
Paramount Pictures
Release Date
June 8, 1983
Rating

Trading Places (1983) is an American comedy written by Timothy Harris and Herschel Weingrod, directed by John Landis, and starring Dan Aykroyd and Eddie Murphy. It tells the story of an upper class commodities broker and a homeless street hustler whose lives cross paths when they are unknowingly made part of an elaborate bet.
A snobbish investor and a wily street con artist find their positions reversed as part of a bet by two callous millionaires.[1]
Dan Aykroyd as Louis Winthorpe III
Eddie Murphy as Billy Ray Valentine
Ralph Bellamy as Randolph Duke
Don Ameche as Mortimer Duke
Denholm Elliott as Coleman
Jamie Lee Curtis as Ophelia
Kristin Holby as Penelope Witherspoon
Paul Gleason as Clarence Beeks
The storyline is often called a modern take on Mark Twain's classic 19th century novel The Prince and the Pauper.
This film is allegedly set in the same universe as Coming to America.
Community content is available under
CC-BY-SA
unless otherwise noted.