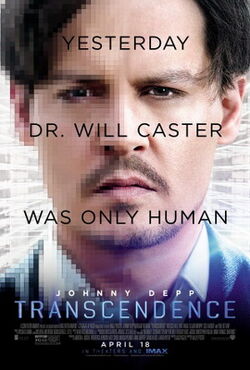 Yesterday Dr. Will caster was only human.
Directed By
Wally Pfister
Produced By
Broderick Johnson
Andrew A. Kosove
Kate Cohen
Marisa Polvino
Annie Marter
David Valdes
Aaron Ryder
Cast
Johnny Depp
Morgan Freeman
Rebecca Hall
Kate Mara
Cillian Murphy
Edited By
David Rosenbloom
Studio
Alcon Entertainment
DMG Entertainment
Straight Up Films
Distributed By
Warner Bros. Pictures
(United States & Canada)
Summit Entertainment
(International)
Release Date
April 18, 2014
(United States)
April 25, 2014
(United Kingdom)
Transcendence (2014) is a British-American science fiction thriller film directed by long time cinematographer Wally Pfister, executive produced by Christopher Nolan and Emma Thomas, and starring Johnny Depp and Morgan Freeman.
Transcendence is currently set to be released in US theaters on April 18, 2014, and in UK theaters April 25, 2014.
A terminally ill scientist uploads his mind to a computer. This grants him power beyond his wildest dreams, and soon he becomes unstoppable.[1]
Johnny Depp as Dr. Will Caster
Morgan Freeman as Joseph Tagger
Rebecca Hall as Evelyn Caster
Paul Bettany as Max Waters
Kate Mara as Bree
Cillian Murphy as Donald Buchanan
Clifton Collins, Jr. as Martin
Cole Hauser as a military officer
Cory Hardrict as a member of the RIFT Unit
Transcendence marks the directorial debut of veteran cinematographer Wally Pfister.
References
Edit
Community content is available under
CC-BY-SA
unless otherwise noted.