Twilight is a 2008 romantic-fantasy film directed by Catherine Hardwicke and based on the Twilight novel of the same name by Stephenie Meyer. The film stars Kristen Stewart as a teenage girl who falls in love with a vampire, played by Robert Pattinson. The film was in development for approximately three years before it was put into pre-production by Summit Entertainment. The novel was adapted for the screen by Melissa Rosenberg in the autumn of 2007, shortly before the 2007–2008 Writers Guild of America strike. The film was primarily shot in Washington and Oregon during the winter and spring of 2008. Twilight was released domestically on November 21, 2008,[4] and grossed $35.7 million on its opening day.[5] The soundtrack was released on November 4, 2008.[6]
Seventeen-year-old Isabella "Bella" Swan moves to the small town of Forks, Washington, to live with her father, Charlie. There, she finds herself drawn to a mysterious classmate, Edward Cullen, who is revealed to be a 108-year-old vampire but is physically seventeen. Although Edward discourages the romance at first, they soon fall deeply in love. When the arrival of three nomadic vampires, James, Laurent, and Victoria, puts Bella's life in danger, Edward and his family, Alice Cullen, Carlisle Cullen, Esme Cullen, Jasper, Emmett and Rosalie, put their lives at stake to save her.[7]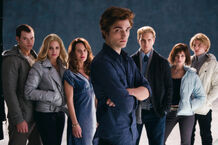 "Beautiful. Very visually dynamic. I chose my stage well." - Cam Gigandet as James
"The hunt is his obsession. He's never gonna stop!" - Robert Pattinson as Edward Cullen
"Look, You gotta give me some answers." Kristen Stewart as Isabella Swan
Stephenie Meyer's paranormal romance novel Twilight was originally optioned by Paramount Pictures' MTV Films in April 2004, but the screenplay that was subsequently developed was substantially different from its source material.[3][18] When Summit Entertainment reinvented itself as a full-service studio in April 2007, it began development of a film adaptation anew,[19] having picked up the rights from Paramount in a turnaround.[20] The company perceived the film as an opportunity to launch a franchise based on the success of Meyer's book and its sequels.[11][21] That summer, Catherine Hardwicke was hired to direct the film and Melissa Rosenberg to write the script.[22]
Rosenberg developed an outline by the end of August, and collaborated with Hardwicke on writing the screenplay during the following month. "[She] was a great sounding board and had all sorts of brilliant ideas.... I'd finish off scenes and send them to her, and get back her notes."[23] Due to the impending WGA strike, Rosenberg worked full-time to finish the screenplay before October 31.[23] In adapting the novel, she "had to condense a great deal." Some characters from the novel were not featured in the screenplay, whereas some characters were combined into others.[24] "[O]ur intent all along was to stay true to the book," Rosenberg explained, "and it has to do less with adapting it word for word and more with making sure the characters' arcs and emotional journeys are the same."[25] Hardwicke suggested the use of voice over to convey the protagonist's internal dialogue[23] – since the novel is told from Bella's point of view – and she sketched some of the storyboards during pre-production.[26]
Kristen Stewart was on the set of Adventureland when Hardwicke visited her for an informal screen test which "captivated" the director.[3] Hardwicke did not initially choose Robert Pattinson for the role of Edward Cullen, but after an audition at her home with Stewart, Hardwicke chose him.[3] Pattinson was unfamiliar with the novel series prior to his screen test but read the books later on.[27] Meyer allowed him to view a manuscript of the unfinished Midnight Sun, which chronicles the events in Twilight from Edward's point of view.[28] Fan reaction to Pattinson's casting as Edward was initially negative; Rachelle Lefèvre remarked that "[e]very woman had their own Edward [that] they had to let go of before they could open up to [him], which they did."[27] Meyer was "excited" and "ecstatic" in response to the casting of the two main characters.[29] "When they told me Rob was probably the one, I looked him up and thought, "Yeah, he can do a version of Edward. He's definitely got that vampire thing going on." And then, when I was on set and I got to watch him go from being Rob to shifting into being Edward, and he actually looked like the Edward in my head, it was a really bizarre experience. [...] He really had it nailed. -- 'Twilight author Stephenie Meyer.
Peter Facinelli was not originally cast as Carlisle Cullen. "[Hardwicke] liked [him], but there was another actor that the studio was pushing for."[10] For unknown reasons, that actor was not able to play the part, and Facinelli was selected in his place.[10] Nikki Reed had previously worked with Hardwicke on thirteen (2003), which they wrote together, and Lords of Dogtown (2005). "I don't want to say it's a coincidence, because we do work well together, and we have a great history. I think we make good work, but it's more that the people that hire [Hardwicke] to direct a film of theirs [have] most likely seen her other work."[30]
Kellan Lutz was in Africa shooting the HBO miniseries Generation Kill (2008) when the auditions for the character of Emmett Cullen were conducted. The role had already been cast by the time that production ended in December 2007, but the actor who had been selected "fell through"; Lutz subsequently auditioned and was flown to Oregon, where Hardwicke personally chose him.[31] Rachelle Lefèvre was interested in pursuing a role in the film because Hardwicke was attached to the project as director; there was also "the potential to explore a character, hopefully, over three films"; and she wanted to portray a vampire.[32] "[She] thought that vampires were basically the best metaphor for human anxiety and questions about being alive."[32] Christian Serratos initially auditioned for Jessica Stanley, but she "fell totally in love with Angela" after reading the books, and successfully took advantage of a later opportunity to audition for Angela Weber.[33] The role of Jessica Stanley went to Anna Kendrick, who got the part after two mix-and-match auditions with various actors.[34]
Filming and post-production
[
edit
|
edit source
]
Principal photography took 44 days,[35] after more than a week of rehearsals,[36] and completed on May 2, 2008.[37] Similar to her directorial debut thirteen, Hardwicke opted for an extensive use of hand-held cinematography to make the film "feel real".[10][38] Meyer visited the production set thrice, and was consulted on different aspects of the story;[39] she also has a brief cameo in the film.[40] Cast members who portrayed vampires avoided sunlight to make their skin pale, though makeup was also applied for that effect, and wore contact lenses: "We did the golden color because the Cullens have those golden eyes. And then, when we're hungry, we have to pop the red ones in," Facinelli explained.[10] They also participated in rehearsals with a dance choreographer and observed the physicality of different panthera to make their bodily movements more graceful.[10][41][42]
Scenes were filmed primarily in Portland, Oregon,[12] and the cast did most of their own stunt work.[43] The fight sequence between Gigandet and Pattinson's characters in a ballet studio, which was filmed during the first week of production, involved a substantial amount of wire work since the vampires in the story have superhuman strength and speed.[42] Gigandet incorporated some mixed martial arts fighting moves in this sequence, which also involved chicken and honey as substitutes for flesh.[44] Bella, the protagonist, is unconscious during these events, and since the novel is told from her point of view, such action sequences are illustrative and unique to the film.[27] Pattinson noted that maintaining one's center of gravity is difficult when doing wire work "because you have to really fight against it as well as letting it do what it needs to do."[27] Lefèvre found the experience disorienting since forward motion is out of one's control in such work.[27]
Instead of shooting at Forks High School itself, scenes taking place at the school were filmed at Kalama High School[45] and Madison High School.[46] Other scenes were also filmed in St. Helens, Oregon,[47] and Hardwicke conducted some reshooting in Pasadena, California, in August.[35][48] The studio intended to create a series of at least three films based on Meyer's books,[8] and Summit had optioned New Moon by October 2008.[49] Twilight was originally scheduled to be theatrically released in the United States on December 12, 2008, but its release date was changed to November 21 after Harry Potter and the Half-Blood Prince was rescheduled for an opening in July 2009.[4] Two teaser trailers, as well as some additional scenes, have been released for the film. The final trailer was released on October 9.[50][51] A 15-minute excerpt of Twilight was presented during the International Rome Film Festival in Italy.[52] The film received a PG-13 rating from the Motion Picture Association of America for "some violence and a scene of sensuality".[53] It is rated 12A in the United Kingdom and Ireland.
Twilight grossed over $7 million in ticket sales from midnight showings alone on November 21, 2008.[54] The film is third overall on online ticket service Fandango's list of top advance ticket sales, outranked only by Star Wars Episode III: Revenge of the Sith (2005) and The Dark Knight (2008).[54] It grossed $35.8 million on its opening day, the biggest opening day gross for a non-sequel and non-summer movie. For its opening weekend in the United States and Canada, Twilight accumulated $70.5 million from 3,419 theaters at an average of $20,636 per theater.[55]
Based on 128 reviews collected by Rotten Tomatoes as of November 24, 2008, the film has received an overall approval rating of 44%, with a weighted average score of 5.4/10.[56] In describing the critical consensus, it stated: "Having lost much of its bite transitioning to the big screen, Twilight will please its devoted fans, but do little for the uninitiated."[56] By comparison, Metacritic, which assigns a normalized rating out of 100 to reviews from mainstream critics, calculated an average score of 56 from the 32 reviews it collected, indicating "mixed or average" reviews.[57] Entertainment Weekly gave a positive review (B).[58]
The score for Twilight was composed by Carter Burwell,[59][60] with the rest of the soundtrack chosen by music supervisor Alexandra Patsavas.[61] Meyer was consulted on the soundtrack, which includes music by Muse and Linkin Park, bands she listened to while writing the novels.[62][63] The original soundtrack was released on November 4 by Chop Shop Records in conjunction with Atlantic Records.[6] The soundtrack debuted at number 1 on the Billboard 200 for the chart week of November 22.[64]
On November 22, 2008, Summit Entertainment confirmed a sequel to Twilight based on the second book in the series, New Moon.[65][66][67] Rosenberg had been working on adapting the novel prior to Twilight's release.[68]
Community content is available under
CC-BY-SA
unless otherwise noted.