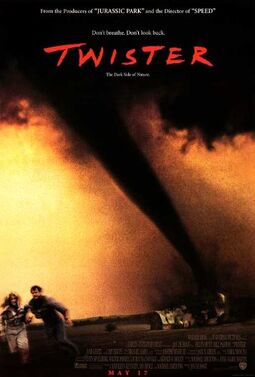 Twister is a 1996 American epic disaster film directed by Jan de Bont from a screenplay by Michael Crichton and Anne-Marie Martin. Its executive producers were Steven Spielberg, Walter Parkes, Laurie MacDonald and Gerald R. Molen. The film stars Helen Hunt, Bill Paxton, Jami Gertz and Cary Elwes, and depicts a group of storm chasers researching tornadoes during a severe outbreak in Oklahoma.
Twister was the second-highest-grossing film of 1996 in the US; an estimated 54.7 million tickets were sold in the US. The film was met with a mixed critical reception, receiving criticism for its screenplay and praise for its visual effects and sound design. The film received Academy Award nominations for Best Visual Effects and Best Sound Mixing, but lost both to Independence Day and The English Patient respectively.
In this movie, it was 1968 when Jo Harding was young. A huge thunderstorm with a tornado was coming. The family went into the storm cellar. The father was trying to hold on the door, but the twister lifted the thing and killed him. 20 years later, a older Jo Harding was a storm chaser who was tracking tornadoes.
Extended Links
Edit
Community content is available under
CC-BY-SA
unless otherwise noted.