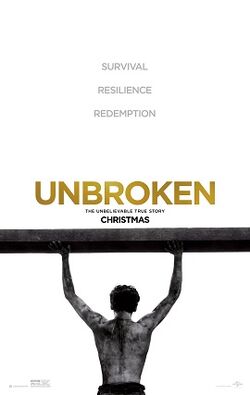 Survival. Resilience. Redemption.
Directed By
Angelina Jolie
Produced By
Angelina Jolie
Matthew Baer
Erwin Stoff
Clayton Townsend
Written By
Joel and Ethan Coen
Richard LaGravenese
William Nicholson
Cast
Jack O'Connell
Domhnall Gleeson
Miyavi
Garrett Hedlund
Finn Wittrock
Cinematography
Roger Deakins
Music By
Alexandre Desplat
Studio
Legendary Pictures
Jolie Pas
3 Arts Entertainment
Distributed By
Universal Pictures
Release Date
December 25, 2014
Unbroken is a 2014 American war drama produced and directed by Angelina Jolie. It is based on the 2010 non-fiction book by Laura Hillenbrand (Unbroken: A World War II Story of Survival, Resilience, and Redemption), and revolves around the life of USA Olympian and athlete Louis "Louie" Zamperini (portrayed by Jack O'Connell), who survived in a raft for 47 days after his bomber was downed in WWII, only to be captured and sent to a series of P.O.W. camps.
After a near-fatal plane crash in WWII, Olympian Louis Zamperini spends a harrowing 47 days in a raft with two fellow crewmen before he's caught by the Japanese navy and sent to a prisoner-of-war camp.[1]
Jack O'Connell as Louis "Louie" Zamperini

C.J. Valleroy as young Louis Zamperini

Domhnall Gleeson as Russell "Phil" Phillips
Miyavi as Mutsuhiro "The Bird" Watanabe
Garrett Hedlund as John Fitzgerald
Finn Wittrock as Francis "Mac" McNamara
Jai Courtney as Charlton Hugh "Cup" Cupernell
Luke Treadaway as Miller
Travis Jeffery as Jimmy
Jordan Patrick Smith as Cliff
John Magaro as Frank A. Tinker
Alex Russell as Pete Zamperini
Vincenzo Amato as Anthony
Ross Anderson as Blackie
Maddalena Ischiale as Louise Zamperini
Morgan Griffin as Cynthia Applewhite
Savannah Lamble as Sylvia Zamperini
Sophie Dalah as Virginia Zamperini
References
Edit
Community content is available under
CC-BY-SA
unless otherwise noted.