Universal Classic Monsters is a phrase used to describe the horror, suspense and science fiction films made by Universal Pictures during the decades of the 1920s through the 1950s. They began with The Hunchback of Notre Dame and The Phantom of the Opera, both silent films starring Lon Chaney. Universal continued with talkies including monster franchises Dracula, Frankenstein, The Mummy, The Invisible Man, The Wolf Man and Creature from the Black Lagoon. The films often featured Bela Lugosi, Boris Karloff and Lon Chaney Jr.
Original films
Edit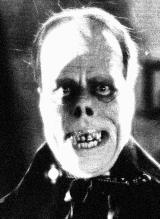 In 1923, Universal produced the drama The Hunchback of Notre Dame, starring Lon Chaney as Quasimodo. The production sets were built to evoke 15th-century Paris, including a re-creation of the Notre Dame de Paris cathedral.
Chaney stars as The Phantom in 1925's horror film, The Phantom of the Opera, based on the mystery novel by Gaston Leroux. The interior of the Opéra Garnier was recreated to scale and was used again in the 1943 remake with Claude Rain.
Film
U.S. release date
Director(s)
Cast
RT
IMDb
The Hunchback of Notre Dame
September 2, 1923
Wallace Worsley
Lon Chaney, Patsy Ruth Miller, Norman Kerry, Nigel de Brulier, Brandon Hurst
95%
7.3
The Phantom of the Opera
November 25, 1925
Rupert Julian
Lon Chaney, Mary Philbin, Norman Kerry, Arthur Edmund Carewe, Gibson Gowland
90%
7.7
The Cat and the Canary
September 9, 1927
Paul Leni
Laura La Plante, Forrest Stanley, Creighton Hale, Flora Finch
93%
7.2
The Man Who Laughs
April 27, 1928
Mary Philbin, Conrad Veidt, Brandon Hurst, Olga V. Baklanova, Cesare Gravina, Stuart Holmes, Samuel de Grasse, George Siegmann, Josephine Crowell
100%
7.8
The Last Warning
January 6, 1929
Laura LaPlante, Montagu Love, Margaret Livingston, John Boles
N/A
7.5
The Last Performance
November 1929
Paul Fejos
Conrad Veidt, Mary Philbin
N/A
6.8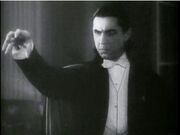 In 1931, Bela Lugosi starred in Universal's Dracula and Boris Karloff in Frankenstein. Actors Dwight Frye and Edward Van Sloan, who played major supporting roles in both films, made several film appearances in this decade. Make-up artist Jack Pierce created several monsters' make-up starting in the 1930s.
The Mummy, starring Karloff, was produced in 1932. This was followed by a trilogy of films based on the tales of Edgar Allan Poe: Murders in the Rue Morgue (1932) starring Lugosi, The Black Cat (1934), and The Raven (1935), the latter two of which teamed Lugosi with Karloff. Universal began releasing sequels including Bride of Frankenstein (1935), Dracula's Daughter (1936) and sequels for The Invisible Man (1933). The first mainstream werewolf picture, Werewolf of London (1935) starring Henry Hull, was not a box office triumph despite being revered by audiences today.
The end of Universal's first run of horror films came in 1936. The monster movies were dropped from the production schedule altogether and would not re-emerge for another three years. In the meantime, a theatre owner revived Dracula and Frankenstein as a resoundingly successful double feature, prompting the studio to re-release the original movies. Son of Frankenstein (1939), starring Basil Rathbone, Boris Karloff, and Bela Lugosi, was filmed as a result of the unexpected resurgence.
Film
U.S. release date
Director(s)
Cast
RT[1]
IMDb[2]
The Cat Creeps
(lost film)
November 10, 1930
Rupert Julian
Helen Twelvetrees, Raymond Hackett, Neil Hamilton, Elizabeth Patterson
N/A
7.0
La Voluntad del muerto
(lost film)
1930
George Melford and Enrique Tovar Ávalos
Antonio Moreno, Lupita Tovar, Andrés de Segurola, Roberto E. Guzmán, Paul Ellis, Lucio Villegas, Agostino Borgato, Conchita Ballesteros, María Calvo, Soledad Jiménez
N/A
N/A
Dracula
(English-language film)
February 12, 1931
Tod Browning
Bela Lugosi, David Manners, Helen Chandler, Dwight Frye, Edward Van Sloan
91%
7.6
Dracula
(Spanish-language film)
April 24, 1931
George Melford
Carlos Villarías, Lupita Tovar, Barry Norton, Pablo Álvarez Rubio, Eduardo Arozamena
N/A
7.2
Frankenstein
November 21, 1931
James Whale
Colin Clive, Mae Clarke, John Boles, Boris Karloff, Dwight Frye, Edward Van Sloan, Frederick Kerr
100%
7.9
Murders in the Rue Morgue
February 21, 1932
Robert Florey
Bela Lugosi, Sidney Fox, Leon Ames, Bert Roach, Brandon Hurst, Noble Johnson, D'Arcy Corrigan
83%
6.4
The Old Dark House
October 20, 1932
James Whale
Boris Karloff, Melvin Douglas, Gloria Stuart, Charles Laughton, Lilian Bond, Ernest Thesiger, Eva Moore, Raymond Massey, Brember Wills, John Dudgeon
100%
7.3
The Mummy
December 22, 1932
Karl Freund
Boris Karloff, Zita Johann, David Manners, Edward Van Sloan, Arthur Byron
93%
7.2
Secret of the Blue Room
July 20, 1933
Kurt Neumann
Lionel Atwill, Gloria Stuart, Paul Lukas, Edward Arnold
6.6
The Invisible Man
November 13, 1933
James Whale
Gloria Stuart, Claude Rains, William Harrigan, Dudley Digges, Una O'Connor, Henry Travers, Forrester Harvey
100%
7.7
The Black Cat
May 18, 1934
Edgar G. Ulmer
Boris Karloff, Bela Lugosi, David Manners, Jacqueline Wells, Lucille Lund, Egon Brecher, Harry Cording, Henry Armetta, Albert Conti
87%
7.2
The Mystery of Edwin Drood
February 4, 1935
Stuart Walker
Douglass Montgomery, Claude Rains, Heather Angel, David Manners, Francis L. Sullivan, Valerie Hobson
N/A
6.7
Bride of Frankenstein
April 22, 1935
James Whale
Boris Karloff, Colin Clive, Valerie Hobson, Elsa Lanchester, Una O'Connor, Ernest Thesiger, E. E. Clive
100%
7.9
Werewolf of London
May 13, 1935
Stuart Walker
Henry Hull, Warner Oland, Valerie Hobson, Lester Matthews, Spring Byington, Clark Williams, Lawrence Grant
77%
6.5
The Raven
July 8, 1935
Lew Landers
Boris Karloff, Bela Lugosi, Irene Ware, Lester Matthews, Inez Courtney
100%
7.1
The Invisible Ray
January 20, 1936
Lambert Hillyer
Boris Karloff, Bela Lugosi, Frances Drake, Frank Lawton
80%
6.6
Dracula's Daughter
May 11, 1936
Otto Kruger, Gloria Holden, Marguerite Churchill, Edward Van Sloan, Irving Pichel, Nan Grey
46%
6.4
Night Key
April 18, 1937
Lloyd Corrigan
Boris Karloff, J. Warren Hull, Jean Rogers, Alan Baxter, Hobart Cavanaugh, Samuel Hinds, David Oliver, Ward Bond, Frank Reicher, Edwin Maxwell
N/A
6.3
The Phantom Creeps
(serial film)
January 7, 1939
Ford Beebe and Saul A. Goodkind
Bela Lugosi, Robert Kent, Dorothy Arnold, Regis Toomey, Edward Van Sloan
N/A
4.6
Son of Frankenstein
January 13, 1939
Rowland V. Lee
Basil Rathbone, Boris Karloff, Bela Lugosi, Lionel Atwill, Josephine Hutchinson, Donnie Dunagan
89%
7.2
Tower of London
November 17, 1939
Basil Rathbone, Boris Karloff, Barbara O'Neil, Ian Hunter, Vincent Price, Nan Grey, John Sutton, Leo G. Carroll, Miles Mander, Lionel Belmore, Rose Hobart
N/A
6.7
During the 1940s, Universal released The Wolf Man (1941), with Lon Chaney Jr. The junior Chaney became the studio's leading monster movie actor in the 1940s, just as his father had been two decades earlier, supplanting the 1930s' Karloff and Lugosi by a wide margin in terms of the number of leading roles that he played. Chaney Jr. physically resembled his father apart from usually being somewhat overweight, which the senior Chaney never was. The studio dropped the "Jr." from the junior Chaney's billing almost immediately to confuse some in the audiences into assuming that this was the same actor.
In 1943, the studio created a remake of Phantom of the Opera, this time starring Nelson Eddy and Susanna Foster with Claude Rains as the Phantom.
The Frankenstein and Wolf Man series continued with The Ghost of Frankenstein (1942), in which Chaney Jr. played Frankenstein's monster and Lugosi reprised his role as Ygor, and Frankenstein Meets the Wolf Man (1943) with Lugosi as the Frankenstein monster and Chaney Jr. as the Wolf Man. Son of Dracula (1943) featured Chaney Jr. in Lugosi's original role as the Count. The Mummy series was also continued with The Mummy's Hand (1940), The Mummy's Tomb (1942), The Mummy's Ghost and The Mummy's Curse (both 1944) with Chaney Jr. as the Mummy in the last three films. House of Frankenstein (1944) and House of Dracula (1945) featured many of the monsters from the studio's previous films. As the decade drew to a close, the comedy Abbott and Costello Meet Frankenstein (1948) features Lugosi in only his second film as Count Dracula, alongside Chaney Jr. as Larry Talbot (the Wolf Man), and Glenn Strange as Frankenstein's monster.
Film
U.S. release date
Director(s)
Cast
RT[1]
IMDb[2]
The Invisible Man Returns
January 12, 1940
Joe May
Sir Cedric Hardwicke, Vincent Price, Nan Grey, John Sutton, Cecil Kellaway
80%
6.5
Black Friday
April 12, 1940
Arthur Lubin
Boris Karloff, Bela Lugosi, Stanley Ridges, Anne Nagel, Anne Gwynne, James Craig
N/A
6.3
The Mummy's Hand
September 20, 1940
Christy Cabanne
Dick Foran, Peggy Moran, Wallace Ford, Cecil Kellaway, Eduardo Ciannelli, George Zucco, Tom Tyler
67%
6.1
The Invisible Woman
December 27, 1940
A. Edward Sutherland
Virginia Bruce, John Barrymore, John Howard, Charlie Ruggles, Oscar Homolka
N/A
6.1
Man Made Monster
March 28, 1941
George Waggner
Lionel Atwill, Anne Nagel, Frank Albertson, Samuel S. Hinds, Lon Chaney Jr.
N/A
6.3
Horror Island
March 28, 1941
Dick Foran, Leo Carrillo, Peggy Moran, Fuzzy Knight, Lewis Howard, Walter Catlett
N/A
6.0
The Black Cat
May 2, 1941
Albert S. Rogell
Basil Rathbone, Hugh Herbert, Brod Crawford, Bela Lugosi, Gale Sondergaard, Anne Gwynne, Gladys Cooper, Cecelia Loftus, Claire Dodd
N/A
6.3
The Wolf Man
December 12, 1941
George Waggner
Claude Rains, Warren William, Ralph Bellamy, Patric Knowles, Bela Lugosi, Maria Ouspenskaya, Evelyn Ankers, Lon Chaney Jr.
94%
7.4
The Mad Doctor of Market Street
February 27, 1942
Joseph H. Lewis
Lionel Atwill, Una Merkel, Nat Pendleton, Claire Dodd, Richard Davies, Anne Nagel, Hardie Albright
N/A
5.2
The Ghost of Frankenstein
March 13, 1942
Erle C. Kenton
Sir Cedric Hardwicke, Ralph Bellamy, Lionel Atwill, Bela Lugosi, Evelyn Ankers, Lon Chaney Jr.
75%
6.1
The Strange Case of Doctor Rx
April 17, 1942
William Nigh
Patric Knowles, Lionel Atwill, Anne Gwynne, Mona Barrie, Paul Cavanagh, Samuel S. Hinds
N/A
5.2
The Mystery of Marie Roget
April 23, 1942
Phil Rosen
Maria Montez, Patric Knowles, Maria Ouspenskaya, John Litel, Edward Norris, Lloyd Corrigan
N/A
6.0
Invisible Agent
July 31, 1942
Edwin L. Marin
Ilona Massey, Jon Hall, Peter Lorre, Sir Cedric Hardwicke, J. Edward Bromberg, John Litel, Albert Bassermann
N/A
6.1
Night Monster
October 20, 1942
Ford Beebe
Bela Lugosi, Lionel Atwill, Leif Erickson, Irene Hervey, Ralph Morgan, Don Porter, Nils Asther, Frank Reicher
N/A
6.4
The Mummy's Tomb
October 23, 1942
Harold Young
Lon Chaney Jr., Dick Foran, John Hubbard, Elyse Knox, George Zucco, Wallace Ford, Turhan Bey
29%
5.7
Frankenstein Meets the Wolf Man
March 5, 1943
Roy William Neill
Ilona Massey, Patric Knowles, Bela Lugosi, Lionel Atwill, Maria Ouspenskaya, Lon Chaney Jr.
25%
6.6
Captive Wild Woman
June 4, 1943
Edward Dmytryk
Evelyn Ankers, John Carradine, Milburn Stone, Lloyd Corrigan, Martha MacVicar, Vince Barnett, Acquanetta
40%
5.7
Phantom of the Opera
August 27, 1943
Arthur Lubin
Nelson Eddy, Susanna Foster, Claude Rains, Edgar Barrier, Leo Carrillo, Jane Farrar, J. Edward Bromberg, Fritz Feld, Hume Cronyn
74%
6.5
Son of Dracula
November 5, 1943
Robert Siodmak
Louise Allbritton, Robert Paige, Evelyn Ankers, Frank Craven, J. Edward Bromberg, Samuel S. Hinds, Lon Chaney Jr.
60%
6.2
The Mad Ghoul
November 12, 1943
James P. Hogan
Turhan Bey, Evelyn Ankers, David Bruce, George Zucco, Robert Armstrong, Milburn Stone
N/A
5.8
Calling Dr. Death
December 17, 1943
Reginald Le Borg
Lon Chaney Jr., Patricia Morison, J. Carrol Naish, Ramsay Ames, David Bruce
N/A
6.1
Weird Woman
March 1, 1944
Lon Chaney Jr., Anne Gwynne, Evelyn Ankers, Lois Collier, Ralph Morgan, Elisabeth Risdon, Elizabeth Russell
N/A
6.5
Jungle Woman
June 1, 1944
Reginald Le Borg
Evelyn Ankers, J. Carrol Naish, Lois Collier, Milburn Stone, Douglass Dumbrille, Acquanetta
N/A
5.3
The Invisible Man's Revenge
June 9, 1944
Ford Beebe
Jon Hall, Leon Errol, John Carradine, Alan Curtis, Evelyn Ankers, Gale Sondergaard
N/A
5.8
The Mummy's Ghost
July 7, 1944
Reginald Le Borg
Lon Chaney Jr., John Carradine, Ramsay Ames, Barton MacLane, George Zucco, Robert Lowery
33%
5.8
The Climax
October 20, 1944
George Waggner
Susanna Foster, Turhan Bey, Boris Karloff, Gale Sondergaard, June Vincent, Thomas Gomez, George Dolenz, Jane Farrar, Ludwig Stössel
N/A
5.4
Dead Man's Eyes
November 10, 1944
Reginald Le Borg
Lon Chaney Jr., Jean Parker, Paul Kelly, Thomas Gomez, Jonathan Hale, George Meeker, Acquanetta
N/A
6.1
House of Frankenstein
December 1, 1944
Erle C. Kenton
Boris Karloff, Lon Chaney Jr., John Carradine, J. Carrol Naish, Anne Gwynne, Peter Coe, Elena Verdugo, Lionel Atwill
55%
6.3
The Mummy's Curse
December 22, 1944
Leslie Goodwins
Lon Chaney Jr., Peter Coe, Kay Harding, Martin Kosleck, Virginia Christine, Kurt Katch
44%
5.6
The Frozen Ghost
June 1, 1945
arold Young
Lon Chaney Jr., Evelyn Ankers, Elena Verdugo, Tala Birell, Martin Kosleck, Douglass Dumbrille, Milburn Stone
N/A
5.9
The Jungle Captive
June 29, 1945
Otto Kruger, Amelita Ward, Phil Brown, Jerome Cowan, Vicky Lane, Rondo Hatton
N/A
5.5
Strange Confession
October 5, 1945
John Hoffman
Lon Chaney Jr., Brenda Joyce, J. Carrol Naish, Lloyd Bridges, Milburn Stone, Addison Richards
N/A
6.9
House of Dracula
December 7, 1945
Erle C. Kenton
Lon Chaney Jr., Martha O'Driscoll, John Carradine, Lionel Atwill, Onslow Stevens, Glenn Strange, Jane Adams, Ludwig Stössel
50%
5.8
Pillow of Death
December 14, 1945
Wallace Fox
Lon Chaney Jr., Brenda Joyce, J. Edward Bromberg, Rosalind Ivan, Clara Blandick
N/A
6.1
The Spider Woman Strikes Back
March 22, 1946
Arthur Lubin
Gale Sondergaard, Kirby Grant, Brenda Joyce, Milburn Stone, Rondo Hatton
N/A
6.5
House of Horrors
March 29, 1946
Jean Yarbrough
Bill Goodwin, Robert Lowery, Virginia Grey, Martin Kosleck, Alan Napier, Joan Fulton, Rondo Hatton
N/A
6.3
She-Wolf of London
May 17, 1946
June Lockhart, Don Porter, Sara Haden, Eily Malon
17%
5.2
The Cat Creeps
May 17, 1946
Erle C. Kenton
Lois Collier, Fred Brady, Paul Kelly, Noah Beery Jr., Douglass Dumbrille, Rose Hobart
N/A
5.5
The Brute Man
October 1, 1946
Jean Yarbrough
Tom Neal, Jane Adams, Jan Wiley, Peter Whitney, Donald MacBride, Rondo Hatton
N/A
3.8
Abbott and Costello Meet Frankenstein
June 15, 1948
Charles Barton
Bud Abbott, Lou Costello, Lon Chaney Jr., Bela Lugosi, Glenn Strange, Lenore Aubert, Jane Randolph
88%
7.6
Abbott and Costello Meet the Killer, Boris Karloff
August 22, 1949
Bud Abbott, Lou Costello, Boris Karloff
N/A
7.1
Abbott and Costello appeared in films featuring characters such as the Mummy and the Invisible Man.
Creature from the Black Lagoon, directed by Jack Arnold, was released in 1954. Dracula and Frankenstein were re-released as double features in theatres, and were later broadcast in syndication on American television in 1957 as part of the Shock Theater package of Universal Monster Movies.[3] Magazines such as Famous Monsters of Filmland covered the monster films. Universal spent the last half of the decade issuing a number of one-shot monster films.
Film
U.S. release date
Director(s)
Cast
RT[1]
IMDb[2]
Abbott and Costello Meet the Invisible Man
March 19, 1951
Charles Lamont
Bud Abbott, Lou Costello, Nancy Guild, Adele Jergens, Arthur Franz, William Frawley, Sheldon Leonard
78%
7.0
The Strange Door
December 8, 1951
Joseph Pevney
Charles Laughton, Boris Karloff, Sally Forrest, Richard Stapley
N/A
6.3
The Black Castle
December 25, 1952
Nathan H. Juran
Richard Greene, Boris Karloff, Stephen McNally, Rita Corday, Lon Chaney Jr., John Hoyt, Michael Pate, Nancy Valentine
N/A
6.4
It Came from Outer Space
May 25, 1953
Jack Arnold
Richard Carlson, Barbara Rush, Charles Drake, Russell Johnson, Kathleen Hughes, Joe Sawyer
81%
6.6
Abbott and Costello Meet Dr. Jekyll and Mr. Hyde
August 10, 1953
Charles Lamont
Bud Abbott, Lou Costello, Boris Karloff, Helen Westcott, Craig Stevens, Reginald Denny
71%
6.7
Creature from the Black Lagoon
February 12, 1954
Jack Arnold
Richard Carlson and Julia Adams, Richard Denning, Antonio Moreno, Nestor Paiva, Whit Bissell
84%
7.0
Revenge of the Creature
March 23, 1955
John Agar, Lori Nelson, John Bromfield, Nestor Paiva
25%
5.5
Cult of the Cobra
May 30, 1955
Francis D. Lyon
Faith Domergue, Richard Long, Marshall Thompson, Kathleen Hughes, William Reynolds, Jack Kelly, Myrna Hansen, David Janssen
N/A
5.8
This Island Earth
June 1, 1955
Joseph M. Newman and Jack Arnold
Jeff Morrow, Faith Domergue, Rex Reason, Lance Fuller, Russell Johnson
71%
5.8
Abbott and Costello Meet the Mummy
June 23, 1955
Charles Lamont
Bud Abbott, Lou Costello, Marie Windsor, Michael Ansara, Peggy King
27%
6.5
Tarantula
December 14, 1955
Jack Arnold
John Agar, Mara Corday, Leo G. Carroll, Nestor Paiva, Ross Elliott
92%
6.5
The Creature Walks Among Us
April 26, 1956
John Sherwood
Jeff Morrow, Rex Reason, Leigh Snowden, Gregg Palmer, Maurice Manson
43%
5.8
Curucu, Beast of the Amazon
December 1956
Curt Siodmak
John Bromfield , Beverly Garland, Larri Thomas, Tom Payne, Harvey Chalk
N/A
3.9
The Mole People
December 1956
Virgil W. Vogel
John Agar, Cynthia Patrick, Hugh Beaumont, Nestor Paiva, Alan Napier
N/A
4.7
The Incredible Shrinking Man
February 22, 1957
Jack Arnold
Grant Williams, Randy Stuart, April Kent, Paul Langton, Raymond Bailey
89%
7.7
The Deadly Mantis
May 26, 1957
Nathan H. Juran
Craig Stevens, Alix Talton, William Hopper, Florenz Ames, Donald Randolph
38%
4.7
The Land Unknown
October 30, 1957
Virgil W. Vogel
Jock Mahoney, Shawn Smith, William Reynolds, Henry Brandon, Phil Harvey, Douglas Kennedy
N/A
5.8
The Monolith Monsters
December 18, 1957
John Sherwood
Grant Williams, Lola Albright, Les Tremayne, Phil Harvey, Trevor Bardette
N/A
6.5
The Thing That Couldn't Die
June 27, 1958
Will Cowan
William Reynolds, Andra Martin, Carolyn Kearney, Jeffrey Stone
N/A
3.4
Monster on the Campus
December 17, 1958
Jack Arnold
Arthur Franz, Joanna Moore, Judson Pratt, Nancy Walters, Troy Donohue, The Beast
N/A
5.8
Curse of the Undead
May 1959
Edward Dein
Eric Fleming, Kathleen Crowley, Michael Pate, John Hoyt, Bruce Gordon
N/A
5.9
Recurring cast and characters
Edit
List indicator(s)

This table only includes characters which have appeared in multiple films.
A dark grey cell indicates the character was not in the film.
A G Cedric Hardwicke played the son of Henry Frankenstein, he also played the ghost of Henry Frankenstein.
A P indicates the character was mentioned and shown in a photograph.
A U indicates a uncredited role.
A V indicates a voice-only role.
Film
U.S. release date
Director(s)
Main cast
RT[1]
IMDb[2]
Dracula
July 13, 1979
John Badham
Frank Langella and Laurence Olivier
64%
6.5
The Mummy
May 7, 1999
Stephen Sommers
Brendan Fraser, Rachel Weisz and Arnold Vosloo
57%
7.0
The Mummy Returns
May 4, 2001
Brendan Fraser, Rachel Weisz, Arnold Vosloo and Dwayne Johnson
47%
6.3
The Scorpion King
April 19, 2002
Chuck Russell
Dwayne Johnson, Kelly Hu, Bernard Hill, Grant Heslov, Peter Facinelli, Steven Brand, and Michael Clarke Duncan
41%
5.5
Van Helsing
May 7, 2004
Stephen Sommers
Hugh Jackman, Kate Beckinsale, Richard Roxburgh, Shuler Hensley and Will Kemp
23%
6.1
The Mummy: Tomb of the Dragon Emperor
August 1, 2008
Rob Cohen
Brendan Fraser, Maria Bello and Jet Li
12%
5.2
The Wolfman
February 12, 2010
Joe Johnston
Benicio del Toro, Anthony Hopkins, Emily Blunt and Hugo Weaving
34%
5.8
Dracula Untold
October 10, 2014
Gary Shore
Luke Evans
25%
6.3
The Mummy
June 9, 2017
Alex Kurtzman
Tom Cruise
15%
5.5
Dark Universe
Edit
Dark Universe is the term given by Universal Pictures to their planned cinematic universe, which will be based on the classic Universal Monsters film series. The studio's first attempt at this universe was with the film Dracula Untold. Released on October 10, 2014, with Luke Evans in the titular role, the film was developed prior to plans for a shared universe of horror films. However, it was retooled to be a part of the franchise. The film's mixed financial and critical reception resulted in the film's future status within the franchise becoming uncertain. Since the release of Dracula Untold, the connections to the shared universe have been downplayed. Universal, which had announced plans to reboot The Mummy franchise in 2012, decided to re-position the new installment as the first film in the series. The Mummy was set to be released in 2017 with Alex Kurtzman as director. Also, Kurtzman and Chris Morgan were announced as headlining the Dark Universe, with collaborations from David Koepp and Christopher McQuarrie.
Along with the crew, Universal announced the casting of Russell Crowe as Dr. Henry Jekyll / Mr. Edward Hyde, Javier Bardem as the Frankenstein Monster, and Johnny Depp as The Invisible Man. They would join Tom Cruise and Sofia Boutella, as Nick Morton and Princess Ahmanet / The Mummy. Bill Condon was announced as the director of the franchise's Bride of Frankenstein, originally set to be released on February 14, 2019. Even though various sources claimed that Evans' character might have at least a cameo in The Mummy or any of the upcoming films in the universe, Kurtzman denied these claims, stating that he considered the film to not be a part of the Dark Universe. Additional rebooted versions of their characters were announced to have films in development as well including: the Wolf Man, the Creature from the Black Lagoon, the Phantom of the Opera, and The Hunchback of Notre Dame. The shared film universe's official theme music was composed by Danny Elfman.
On June 9, 2017, The Mummy was released. The film received generally negative reviews from critics, and performed below the studio's expectations at the box office. By November, The Bride of Frankenstein was pulled from its initial release, and lead producers/co-architects of the Dark Universe, Alex Kurtzman and Chris Morgan, left Universal and departed from the franchise. Universal has put a hold on future projects while they create a plan for future releases. Universal Pictures released an official statement reading:
After thoughtful consideration, Universal Pictures and director Bill Condon have decided to postpone Bride of Frankenstein. None of us want[s] to move too quickly to meet a release date when we know this special movie needs more time to come together. Bill is a director whose enormous talent has been proven time and again, and we all look forward to continuing to work on this film together.
By January 2018, development on the film progressed with Condon hiring a production team consisting of cinematographer Tobias A. Schliessler, production designer Sarah Greenwood, composer Carter Burwell, and costume designer Jacqueline Durran.
External links
Edit
Universal Classic Monsters

Films
Cite error: <ref> tags exist, but no <references/> tag was found
Community content is available under
CC-BY-SA
unless otherwise noted.