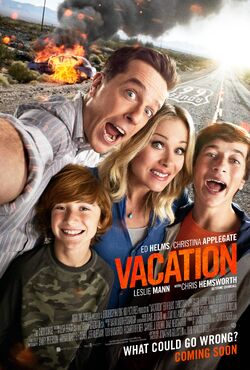 What could go wrong?
Directed By
John Francis Daley
Jonathan Goldstein
Produced By
David Dobkin
Chris Bender
Written By
John Francis Daley
Jonathan Goldstein
Based on
National Lampoon's Vacation
Cast
Ed Helms
Christina Applegate
Skyler Gisondo
Steele Stebbins
Leslie Mann
Chris Hemsworth
Beverly D'Angelo
Chevy Chase
Cinematography
Barry Peterson
Musical Score
Mark Mothersbaugh
Studio
Benderspink
Big Kid Pictures
Distributed By
New Line Cinema
Release Date
July 29, 2015
Rating
Vacation (2015) is an American comedy written and directed by newcomers John Francis Daley and Jonathan Goldstein. Starring Ed Helms, Christina Applegate, Leslie Mann, and Chris Hemsworth, it is the fifth theatrical installment of the National Lampoon's Vacation series (seventh counting direct-to-video), and was released in North America on July 29, 2015.
Paying homage to his father's original (and fateful) "Vacation" to Wally World, a now grown-up Rusty Griswold takes his own family on a road trip to "Walley World" in order to spice things up with his wife and reconnect with his sons.[1]
Ed Helms as Russell "Rusty" Griswold
Christina Applegate as Debbie Griswold, Rusty's wife
Leslie Mann as Audrey Griswold-Crandall
Chris Hemsworth as Stone Crandall, an up-and-coming anchorman and Audrey's husband
Beverly D'Angelo as Ellen Griswold
Chevy Chase as Clark Griswold
Skyler Gisondo as James Griswold, Rusty and Debbie's older son
Steele Stebbins as Kevin Griswold, Rusty and Debbie's younger son
Charlie Day as Chad, a river rafting guide
Keegan-Michael Key and Regina Hall as Jack and Nancy Peterson, the heads of an ideal family that is friends with the Griswolds
Catherine Missal as Adena, James's love interest
Elizabeth Gillies as Heather
Tim Heidecker
Nick Kroll
Kaitlin Olson
Michael Peña
References
Edit
Community content is available under
CC-BY-SA
unless otherwise noted.