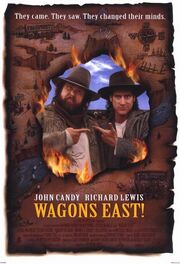 Wagons East! (stylised onscreen as Wagons East) is a 1994 western comedy film directed by Peter Markle and starring John Candy and Richard Lewis.
The film was notable for its leading actor Candy dying of a heart attack during the final days of the film's production.[1] A stand-in and special effects were used to complete his remaining scenes and it was released five months after his death.[2] The film marked one of Candy's last film appearances although it was not his last film release. His last film, Canadian Bacon which he had completed before Wagons East had a delayed release in 1995.
In the 1860s Wild West, a group of misfit settlers including ex-doctor Phil Taylor (Lewis), prostitute Belle (Ellen Greene), andhomosexual bookseller Julian (John C. McGinley) decide they cannot live in their current situation in the west, so they hire a grizzled alcoholic wagon master by the name of James Harlow (Candy) to take them on a journey back to their hometowns in the East. This leads to comedic exploits when the drunken wagon master leads them into Sioux territory and they are pursued by the cavalry. They also have to contend with hired gunslingers who have been sent by railroad magnates to stop the journey in fear of bad publicity of the west, and their discovery that Harlow had been part of the infamous Donner Party.
The film was released five months after Candy's death,[3][4] and despite being Candy's posthumous release, the film was a box office bomb.[5]
The film holds a 0% "Rotten" rating on the review aggregator website Rotten Tomatoes, based on 28 critics' reviews, with the consensus "Wagons East! is a witless, toothless satire of Westerns that falls far below the standard set by Blazing Saddles, and is notable only for being John Candy's final screen performance."[6] Film critic Roger Ebert called the film "a sad way to end John Candy's career," but stated that his legacy was already permanent, and would survive this film.[7]
In the book The Comedy Film Nerds Guide to Movies, Wagons East! is listed at number one on its list of The Ten Worst Westerns.[8]
Awards & Nominations
The CVF Awards:
Worst Picture: Gary M. Goodman, Robert F. Newmyer, Barry Rosen, Jeffrey Silver
Worst Actor: John Candy
Worst Actress: Ellen Greene
Worst Supporting Actor: Richard Lewis
Worst Supporting Actress: Melinda Culea
Worst Director: Peter Markle
Worst Screenplay: Matthew Carlson
Community content is available under
CC-BY-SA
unless otherwise noted.