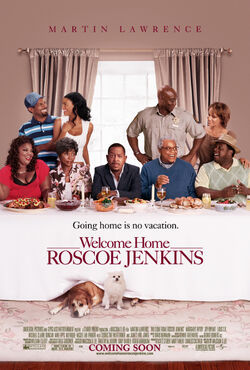 Going home is no vacation
Produced By
Scott Stuber
Mary Parent
Charles Castaldi
Written By
Malcolm D. Lee
Edited By
George Bowers
Paul Millspaugh
Cinematography
Greg Gardiner
Studio
Spyglass Entertainment
Runteldat Entertainment
Release Date
February 8, 2008
Rating

Welcome Home Roscoe Jenkins is a 2008 American comedy film written and directed by Malcolm D. Lee distributed by Universal Pictures. It stars Martin Lawrence, Nicole Ari Parker, Margaret Avery, Michael Clarke Duncan, Mike Epps, Mo'Nique, Cedric the Entertainer, Louis CK, and James Earl Jones.
As a child, RJ Stevens (Martin Lawrence) was the awkward brunt of numerous jokes. Now, RJ is a successful talk-show host who dispenses advice and encouragement to millions. When his parents (James Earl Jones and Margaret Avery) ask him to come back home for their anniversary, RJ vows to show everyone how much he has changed. Unfortunately, RJ's plans are no match for his Southern relatives.
Voice cast
Edit
Martin Lawrence as Dr. RJ Stevens/Roscoe Steven Jenkins, Jr.
Joy Bryant as Bianca Kittles R.J.'s ex-fiance
James Earl Jones as Roscoe Steven "Papa" Jenkins, Sr., Roscoe's father
Margaret Avery as Mama Jenkins, Roscoe's mother
Mike Epps as Reggie Jenkins, Roscoe's cousin
Mo'Nique as Betty Jenkins, RJ's younger sister
Cedric the Entertainer as Clyde Stubbs, RJ's wealthy cousin
Nicole Ari Parker as Lucinda Allen, RJ's childhood crush.
Michael Clarke Duncan as Otis Jenkins, RJ and Betty's older brother.
Liz Mikel as Ruthie Jenkins, Otis's wife.
Brooke Lyons as Amy, Reggie's girlfriend
Louis C.K. as Marty: RJ's agent
Niecy Nash as Cameo
Community content is available under
CC-BY-SA
unless otherwise noted.