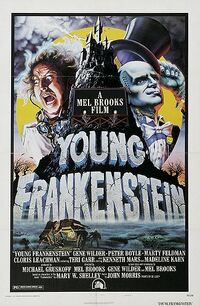 The scariest comedy of all time!
Produced By
Michael Gruskoff
Written By
Gene Wilder
(screen story and screenplay), Mel Brooks (screen story and screenplay), Mary Wollstonecraft Shelley (novel
Frankenstein
)
Country
United States
Release Date
15 December 1974 (USA)
Rating

Budget
$2,800,000 (estimated)
Young Frankenstein is a 1974 American comedy film directed by Mel Brooks and starring Gene Wilder as the title character, a descendant of the infamous Dr. Victor Frankenstein. The supporting cast includes Teri Garr, Cloris Leachman, Marty Feldman, Peter Boyle, Madeline Kahn, Kenneth Mars, Richard Haydn and Gene Hackman. The screenplay was written by Brooks and Wilder.
The film is an affectionate parody of the classical horror film genre, in particular the various film adaptations of Mary Shelley's novel Frankenstein produced by Universal in the 1930s. Most of the lab equipment used as props were created by Kenneth Strickfaden for the 1931 film Frankenstein. To further reflect the atmosphere of the earlier films, Brooks shot the picture entirely in black-and-white, a rarity in the 1970s, and employed 1930s-style opening credits and scene transitions such as iris outs, wipes, and fades to black. The film also features a notable period score by Brooks' longtime composer John Morris.
A critical favorite and box office smash, Young Frankenstein ranks No. 28 on Total Film magazine's "List of the 50 Greatest Comedy Films of All Time"., number 56 on Bravo TV's list of the "100 Funniest Movies", and number 13 on the American Film Institute's list of the 100 funniest American movies. In 2003, it was deemed "culturally, historically or aesthetically significant" by the United States National Film Preservation Board, and selected for preservation in the Library of Congress National Film Registry.
This was the last film 20th Century fox released by itself before becoming a distributor to other production companies, namely Gracie Films.
Community content is available under
CC-BY-SA
unless otherwise noted.