Hawkeye Is Here To Amaze - The Loop
Play Sound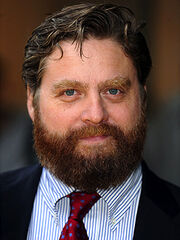 Zach Galifianakis moved to New York City after failing his last college course by one point at North Carolina State University. He got his start performing his brand of humor in the back of a hamburger joint in Times Square, graduating to stand-up in clubs and coffeehouses in the city. While working as a busboy, he got his first acting job on the NBC sitcom "Boston Common." In the eclectic career that followed, he has gone on to perform on a number of late night talk shows, including "The Late Show with David Letterman," "Late Night with Conan O'Brien" and "Jimmy Kimmel Live!"
Among his recent film credits are the comedy "What Happens in Vegas," starring Cameron Diaz and Ashton Kutcher, and Sean Penn's critically acclaimed "Into the Wild." He recently wrapped production on the independent features "Little Fish, Strange Pond," "G-Force," "Rogue's Gallery" and "Youth in Revolt," in 2009. Galifianakis' additional film credits include roles in "Visioneers," "Heartbreakers," "Bubble Boy," "Below," "Corky Romano," "Out Cold," and the documentary "The Comedians of Comedy."
In 2008, he was the writer and co-creator of the Comedy Central pilot "Speed Freaks." His television work includes a series regular role on "Tru Calling"; a host spot on his own critically acclaimed VH-1 talk show "Late World with Zach"; and numerous appearances on such shows as "The Sarah Silverman Program"; as well as a recurring role on "Reno 911!" He also wrote for, and starred in, Comedy Central's "Dog Bites Man."
While not filming, Galifianakis continues to tour the country performing stand-up comedy in rock clubs, coffeehouses and universities.
His latest film is The Campaign.